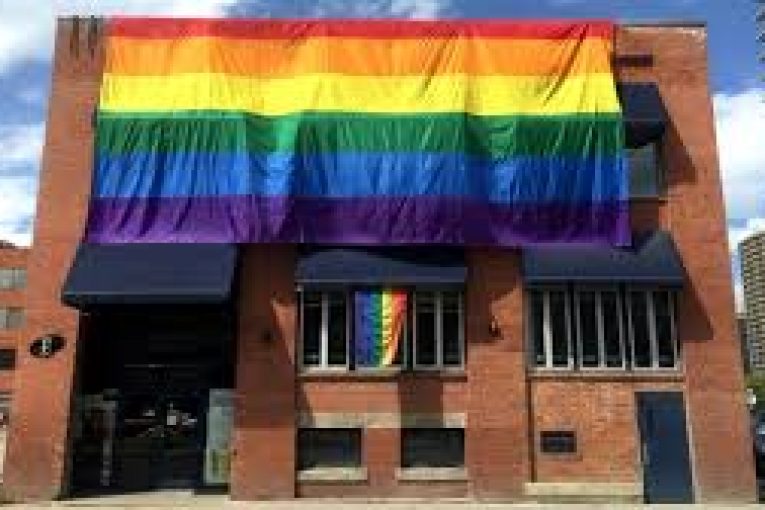 Photo Credit To John Gibson, CBC
On Tuesday, LGBTQ nightclub Twisted Element was ordered to remove its giant pride flag as it broke lease agreement
Twisted Element's landlord is open to having smaller pride flags showcased on the bar's portion of the building, and they can remain there permanently after the owners submit a proposal.
On Tuesday, Calgary LGBTQ bar Twisted Element was ordered to remove a massive rainbow flag — which was hoisted in wake of the Orlando shooting — after the owners broke their lease agreement with the landlord by not asking to cover the top-floor windows. The upstairs tenant is currently not physically in the space.
In a statement, landlord Trevor Tominak said he and the bar owners have come to a compromise.
But Twisted Element owner RayJean Fafard said the issue is now a moot point due to what occured on Tuesday.
Twisted Element owners ordered to remove giant pride flag
Flag was put up Sunday to honour victims of Orlando gay nightclub shooting
The owners of a gay nightclub in Calgary are crying foul after being ordered by their landlord to remove a giant pride flag hung outside the building to support victims of the Orlando mass shooting.
"It's truly sad and I'm extremely, extremely angry about this," Twisted Element owner RayJean Fafard said in a video posted to social media of the flag being taken down.
"Sorry to all my gay community."
Read More Here: http://www.cbc.ca/news/canada/calgary/twisted-element-pride-flag-orlando-1.3636335#DVP