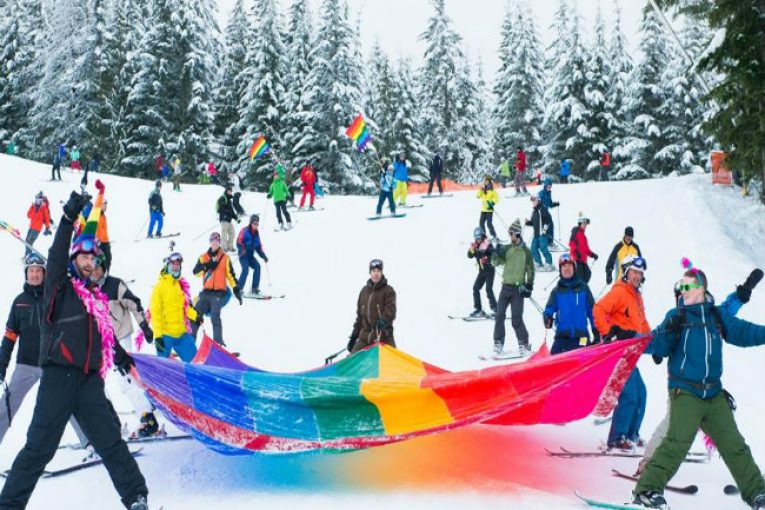 Photo Credit To whistler.com
How to get there – Where to stay – Day trips
Friday January 27 th is Pride Parade Day at Whistler, BC.
Whistler Pride and Ski Festival January 22 -29, 2017, Come up for the day and enjoy the Pride Parade and Whistler Village. Ski conditions are some of the best in over 100 years.
How to Get to Whistler Pride and Ski Festival
Whistler is located on Canada's West Coast just 120-Kms (90-minutes) from Vancouver, BC and 350-Kms (218 miles/ 4-hours) north of Seattle, WA. Gateway airports are SEA (Seattle) and YVR (Vancouver).
Need a ride? We got your back! SNOWBUS is the easiest way to travel between Vancouver and Whistler.
Pacific Coach is the official YVR Airport shuttle service ( YVR Whistler Skylynx ) for Whistler Blackcomb as well as Whistler Express (Downtown Vancouver to/from Whistler Village) offering nine departures daily. Use Promo Code: Pride2017 (Valid Dec. 20, 2016 thru to February 28, 2017) save 25% off regular retail rates. Advance Reservations required.
Book online at www.pacificcoach.com or call 1.800.661.1725 or local 604.662.7575
Air Travel and Airport Transfers
Whistler Blackcomb's Air Desk. It is your one stop shopping experience to get you to Whistler faster with the best value! Click Here to visit Whistler Blackcomb's Air Desk
Whistler Pride and Ski Festival's preferred private car service. VIP Whistler is locally owned. Locally operated. VIP Whistler transportation specialize in everything Whistler. Arrive to Whistler in style with their executive car service and be ready to take on the next step of your adventure! Traveling with a large posse, VIP Whistler has you covered with their luxurious 11 passenger Mercedes Sprinter. Call 1.866.335.2299 or visit VIP whistler.com

Accommodations
Hotels are booking up fast and if you're having trouble finding a place to stay you can check out these links.
There is still limited availability mid week and people should call the Aava Direct at 1.800.663.5644 or our Central Reservations for all hotels at 1.866.787.1966
Other non traditional housing that people may not be aware of include:
– Whistler Sports Legacy Athletes Village 604.964.0052 (needs to be part of Whistler Pride to book)
– Riverside Resort Cabins and Yurts 604.905.5533
http://www.parkbridge.com/en-ca/rv-cottages/riverside-resort
Whistler Backpackers (Hostel)
http://www.hihostels.ca/westerncanada/331/HI-Whistler/index.hostel
Tue., Jan. 24th is the 25th Anniversary Dinner at the Cellar by Araxi – limited space is available
http://gaywhistler.com/event/wine-pairing-dinner/?instance_id=579