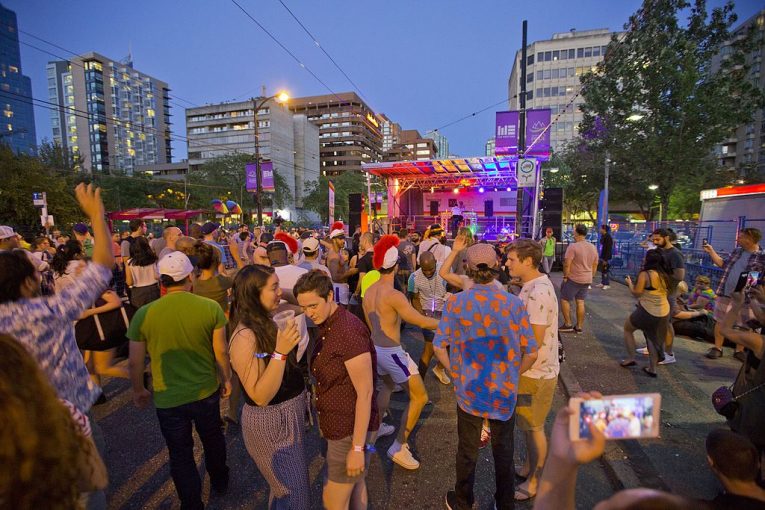 Photo Credit To Wikimedia: via Flickr GoToVan
Davie Street Party 2018 Cancelation Shock to Community
The Davie Street Party, held on the Friday night before the annual Pride Parade has been canceled.
The Vancouver Pride Society issued a statement on their website and social media on Wednesday, April 4, 2018.
Comments are already popping up on social media suggesting things such as new sponsors and fund-raising. This will no doubt be a big disappointment to the tens of thousands who have attended this event over the past several years. To say the announcement came as a shock is an understatement.
Transcript of Statement
It is with disappointment that we, the Vancouver Pride Society (VPS) and our event partners, announce the cancellation of the annual Davie Street Party for the 2018 Pride season.
VPS board and staff reviewed our financial position and budget after our 2017 fiscal year end to determine how to best recover from a posted deficit. The Davie Street Party is our most expensive event to produce. The City of Vancouver and regulatory costs for this event are approximately $79,500 with policing/security/traffic management being over $37,000 of the total cost. It was determined that this event would need a substantial amount of additional partnered support or cost reductions to make it happen in 2018.
We consulted with our long time partners, including the City of Vancouver, early in the year, about collaborating and finding ways to reduce costs. There was a lot of hard work from these partners, but unfortunately a solution was not attainable.
We will continue to work with our event partners and the City of Vancouver to re-imagine the event for 2019.
Andrea Arnot
Executive Director
Contact info:  604-687-0955
[email protected]