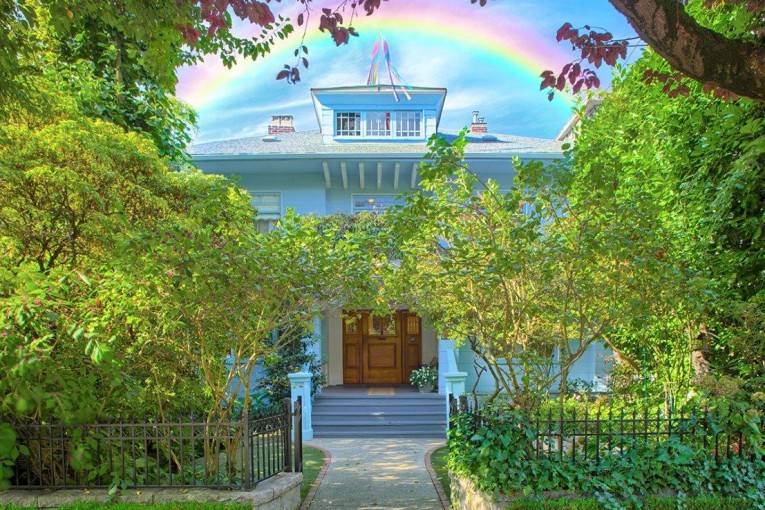 Photo Credit To Nelson House BnB Vancouver
Nelson House – a jewel in the West End – has been an integral part of the community for 25 years this April. I caught up with owner David Ritchie to chat about his 25-year "labour of love".
As I walked up the front step and stood at the enormous solid wooden door – one that brings kings, queens, and castles to mind – I caught a glimpse from outside of someone rushing past the entrance into the living room. Once inside, I met the house manager, who politely took leave to finish the daily dusting and polishing chores at whirlwind speed.
I glanced down at the shiny black and white tiles. My eyes focused on the warm hues of the welcoming entrance where I stood. My gut reaction was to remove my shoes. I forgot for a nano second that I wasn't in someone's private home. But I was reassured that Nelson House guests always leave their shoes on.
David greeted me with a warm smile, "You know how you feel just before guests arrive for Christmas dinner or a party – worrying about every last detail?" I nodded. "That's us every day", he laughed.
At this point, I decided to view the rooms as if through the eyes of a B & B guest.
On one side of the foyer is a handsome fireplace centred in a book-lined living room wall. On the other side, a favourite room in the house. Dining rooms in heritage homes are gathering places. At Nelson House that room is the setting of lively conversation that connects people who come as strangers and leave as friends.
You see how you and other guests would enjoy sitting around the large wooden table. You would get up to help yourself to seasonal fresh fruit, yogurt, and coffee from atop the antique buffet. After your first coffee, you'd thank David as he serves your hot breakfast from the adjoining kitchen.
Next you'd climb the first short flight of stairs, which opens to a wide, tastefully appointed hallway. Under a window at the near end is a sofa to sit and lounge. Four bedrooms, including the art deco Hollywood Room , are on this floor. You'd go to the far end of the hallway and examine an exquisite stained glass piece set in the wall of the Cabin Room . It's a cool rendition of a well-known painting done by BC artist Emily Carr.
You'd climb the second flight of stairs. From the top you'd catapult into another world. Welcome to the exotic Shangri-La suite . This cavernous space would entice you to linger. It would stimulate your senses with colours, tasteful art, and design. You'd love the fireplace and jacuzzi tub. Everybody does!
What prompted you to open a B & B 25 years ago?
I was looking around for a form of self-employment that I could believe in. Having had a previous career that took me around the world, I was very picky! Luckily, I encountered B & Bs in Provincetown and Key West and much admired the combinations of heritage house and easy-going charm. Each one of these businesses was unique and met a need at the time for gay and lesbian travellers – a safe haven, a place to be understood and be themselves.
Thinking back to when Nelson House was a mere idea, does the present day Nelson House resemble what you had envisioned all those years ago?
Yes – actually it does. I wanted to create a place where guests would not only feel at home but somehow come away kind of surprised with themselves and their very positive experience. I remember my old backpacking days, pre-internet, where travellers bonded over breakfast together, traded travel information and sometimes amazing life stories. In a 21st century way, that's where Nelson House is at now.
What are some changes you've seen over the years in the business?
The business has gone from the paper age of B & B guide-books, magazines & newspapers to the global reach of the internet. Just this week, our breakfast table seated 8 people from 5 different countries.
The House
Was the purchase of Nelson House problematic for you 25 years ago?
Well let's just say that in 1989, I got to Vancouver just in the nick of time for my limited budget. I bought the house from a fireman from nearby Fire Hall No. 6. Today, I don't think either of us could afford to buy a house downtown.
When was the house built? Historically, are there any particularly interesting stories around this house?
The house seems to have been constructed between 1907 and 1909. The original owner built the three houses in the row from the lane to the corner of Nelson St. The interior layout, craft details such as wainscoting, stained glass and brickwork in the fireplaces are obviously done by the same hands. He owned a local timber company and some overnight fortunes were made here due to the need for timber to rebuild San Francisco after the quake. I like to tell SF guests of that possible connection.
The Vancouver Archives have old census records, taken door to door annually. It's a little ironic that the first resident at 977 Broughton was recorded as a " traveller "!
The Neighbourhood
Why did you choose the West End location?
Oh there was little doubt that I had to be downtown – close to the community, the action, Vancouver's sights and attractions. Seriously – has anyone ever spent much time in the West End that doesn't love it?
What do your guests seem to like the most about staying in the West End?
Location, location, location. Many guests do not need a car if staying with us. Conventioneers can walk to Canada Place. Cruise ship travellers have just a 5-minute cab ride with their bags. Everyone enjoys walking through the tree-lined West End streets to the False Creek ferries, the convenience of so many attractions from Stanley Park to Chinatown. Visiting Davie Village (just 3 blocks away) and Little Sister's are a highlight for LGBTQ guests.
What are some changes you've seen over the years in the community?
We are so fortunate here in Vancouver to have been on the leading edge of LGBTQ progress. Nelson House opened in 1990 as our city hosted the Gay Games. Some of my regular Victoria guests were plaintiffs in the case that saw the BC Supreme Court rule that it was unconstitutional to deny same-sex marriage.
Since 2006, the B & B has provided a venue for dozens of gay and lesbian weddings. One crazy summer morning, the same Marriage Commissioner wed three Nelson House couples, one after the other on our front lawn. All the while, I cooked breakfast for everyone and the guests took turns acting as witnesses for each other. And still some otherwise pretty cool countries have not caught up to our progress. This winter, an Australian couple flew all the way to Vancouver to marry in our B & B dining room . Their own Parliament has denied them the right.
Over the years you must have had some intriguing guests. Do you remember any particularly memorable ones?
What I remember are those guests who touched me with their humanity and soul. Back in the day, we hosted some gay men who were attempting to travel to the beautiful places (like our city!) before AIDS claimed them. We have always had so many creative people and people in the caring occupations. Isn't that reflective of our community?
Then there were those who felt that they could only be "out" when they were away from home. We have hosted all kinds of clergy, police and military. I have watched people tell stories that brought tears, sad and happy, to everyone at the table. Straight or gay, we share so much in common when we are honest.
Do you know roughly what percentage are repeat guests? What do you think keeps them coming back to Nelson House ?
Probably twenty per cent are repeat guests. Nelson House is probably better known in Seattle and Portland, even though some local West Enders love to put up their in-laws with us. We always treat people as individuals. Hospitality really is about warmth and kindness.
Future of Nelson House
Do you or did you ever market exclusively to the "pink dollar"?
One of the nice things about bed and breakfasting is that every B & B can be different. I set out to welcome gays and lesbians and put most of my advertising budget into gay-friendly media. I never wanted to be exclusive. The aim was to be adult-oriented (no kids under 16), to encourage a romantic ambience and open conversations. Like a dinner-party, having a mix of people makes things more interesting.
Initially we were 90% LGBTQ – the reverse of the popular demographic. It was sometimes a real learning experience for our straight guests. Now, as times, laws and society have changed, it's about 50-50. And yes, people of all types do get along very well over a home-cooked meal and plenty of coffee!!
Cliche alert…If you could relive the past 25 years, would you open a B & B? What, if anything, would you do differently?
Absolutely yes. It's tempting to say that I might work less but there is another cliché in this B & B business: "It's the hardest job that you will ever love."
Trends change with the passage of time. Nothing much escapes change, including travel and choice of accommodation.
What do you think the future holds for Nelson House?
We are busier than ever. We remain a popular draw for charitable auctions and raffles.The gay community is full of very sophisticated travellers. Many choose the genuine character and convenience of a gay-owned B & B over the chain hotel, where staff has passed a training module to certify them "gay-friendly". Modern B & Bs offer the same WIFI, amenities and parking as hotels – without the add-on fees.
Then we add the home-cooked breakfast and baking and personal recommendations to optimize any visitor's time. I see Nelson House as a viable and profitable business proposition for the future. I realize that I cannot run it forever, so I invite anyone who might dream of doing B & B to look me up. Please do bring your cheque-book! I will help you get started but then I am off to a sunny beach.
Speaking of beaches, I heard tell of another vacation rental you have somewhere.
Do you care to elaborate on that?
We have an ocean-view condo in gay Vancouver's favourite getaway – Puerto Vallarta. When we aren't there (just behind the Blue Chairs & 2 minutes to the beach), we rent it through the Nelson House B & B website . There is a link there to a standalone website on the condo, named Alondra .