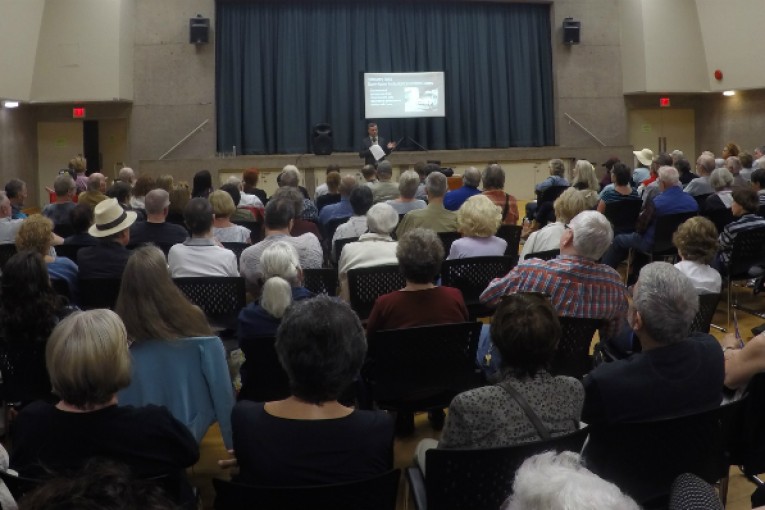 Photo Credit To Davie Village Post
The room was packed beyond Fire Marshall Regulations. 60 people waited in the West End Community Centre for the special Town Hall meeting to begin, as an overflow of many more people stood outside listening. Global and CBC cameras were set up.
You could feel the room was on edge, irritable.
Dating back to 1980, the plan to rebuild St. Paul's at its current site took shape and Phase I was completed. The hospital might have been expanded on the land at the corner of Burrard and Davie. However, construction never resumed. To my knowledge, the reason was not made public.
In 2002 the Providence Health Care Legacy Project was established. It was in part to oversee the redevelopment of St. Paul's Hospital. Buzz about the future of St. Paul's again became a hot topic at that time. Eight years later BC's Health Minister Kevin Falcon declared the hospital would stay at its Burrard Street location. Christie Clark echoed him in June 2012, promising to do what it takes to keep St. Paul's downtown.
Last night hundreds of residents showed up to get answers to questions of why plans to keep St. Paul's in the West End have been changed without their knowledge. Even MLA Spencer Chandra Herbert was left in the dark.
Darlene McKinnon , Chief Clinical Planning Officer at Providence Health Care was there. She insists a new state-of-the-art hospital in a different location would provide better care for the burgeoning population of the West End, including the seniors.
Health Minister Terry Lake and others making decisions about the future of St. Paul's claim they want good community dialogue. That they are interested in people's opinions and concerns. Yet, the community has made its needs and preferences loud and clear. Residents have been systematically ignored.
The push to buy in was strong, but the savvy audience was not buying it. McKinnon kept spinning , "It's about population health planning, not buildings," she said. "It's really looking at what are the care needs across the continuum in the community … what is the best solution. It's not just about the hospital."
Really? Try telling that to someone who needs the hospital three times a week for dialysis. Or someone at risk of another heart attack or stroke. To them, it's ALL about the hospital and the time it takes to get there.
Lack of disclosure and real consultation with the community that the hospital is meant to be serving is taking its toll. It's building a fortress of distrust between residents and those decision-makers.
MLA Spencer Chandra Herbert assured a cheering crowd Tuesday night that this is just the beginning. He begged residents to get involved. Without the community working for this cause, he said, the fight to keep St. Paul's in the West End will be next to impossible.
Two Options
I. Keep St. Paul's at its Current Site and Rebuild
A June 2012 government news release was headlined: " Premier Clark Commits to Redeveloping St. Paul's Hospital ." The business case and development plans, she promised, would be ready for construction to begin in 2016.
Since that day, the West End residents had been waiting to hear when the work starts on the hospital at its Burrard Street site. They were not prepared for the news April 13, 2015 that St. Paul's would close its downtown doors for good.
II. Close Hospital and Build at False Creek Flats
On that day last month, Providence Health Care jolted the community with news of plans to build a new hospital at False Creek Flats in East Vancouver. The land there is owned by the Esperanza Society, which bought it for St. Paul's redevelopment about a decade ago.
In seven years, the $1 billion new hospital is expected to open on a 7.5-hectare site at Station Street near the city's current bus and train station. The site is south of the Downtown Eastside, Chinatown and Strathcona.
Meanwhile, over at City Hall the Green Party stands alone on this issue. As of April 29, 2015 only one city council member – Adriane Carr – is expected to vote against building a new hospital on False Creek Flats. She supports her position with facts about potential environmental issues and people's need for ongoing health care services in the West End.
Two serious environmental problems could spell disaster for St. Paul's in a False Creek Flats location.
1.1. Floods:
Sandy industrial area at sea level used to flood from high tides as recently as the 1970's.
Global warming will cause flooding to return.
1.2. Earthquakes:
Rock is the best ground in earthquakes, which St. Paul's is on now.
The worst is sand. False Creek Flats is all landfill (ie sand). Earthquakes cause liquefaction, which would leave the new hospital unusable.
Bill Tieleman, one of BC's best known communicators, political commentators and strategists, is of the opinion that the option of building a new hospital is an expensive one. It would cost taxpayers an extra $500 million more than a complete retrofit, and would be a move that may compromise the health care of over 100,000 people living near the existing hospital.
People Most Impacted
Seniors
According to the West End Seniors Centre , 25% of the West End residents are 55 and older. An increasing number of seniors live in the downtown area due to the aging of the largest demographic alive now, the baby boomers. As they age, they need increasingly more medical attention – often in a hospital – that's accessible by foot, car, or taxi.
People Living With Disease
For people like Shelley Coppieters , living with leukemia and kidney failure, getting to the new location as often as she'll need the services will cause severe stress.
General
Janine Fuller, manager of Little Sisters bookstore, gave a passionate speech at Tuesday's Town Hall about how important the hospital is for the LGBTQ community. In short, the community at large, including the non-LGBT segment of the populous region, all stand to be impacted by the move.
Community Development
Stephen Regan , executive director of the West End Business Improvement Association (WEBIA), is concerned the relocation of St. Paul's might impact the development of Davie Village.
The community plan, approved by council in November 2013, is based on the assumption that an estimated 7,000 to 10,000 jobs will appear in the West End, with St. Paul's Hospital as one of the main employers.
Those involved in the Davie Village community development plan had envisioned St. Paul's as a vibrant, renewed and expanded cornerstone of the community. Now they're worried about the future of Davie Village.
On the other hand, Councillor Tim Stevenson , who is a LGBTQ advisory committee member and liaison to city council, says he doesn't think the hospital's move will be disastrous for the community, "even if condominiums, rather than another big employment centre, were to replace St Paul's". He points out that condo development would not only mean new residences for the community but would "enliven the Village" and help its merchants.
This optimistic viewpoint is shared by Brian Jackson, General Manager of Planning and Development for the City of Vancouver. He believes that whatever is in store for the hospital will not impact any other parts of the West End community plan.
The Bottom Line
In 2012 Providence announced that the "new site option was too expensive". They estimated a new facility will cost $500,000,000 more than a retrofit/rebuild.
Since the Esperanza Society – on behalf of Providence – bought the land in 2004, the B.C. government and Providence Health Care have together paid $8.8 million in municipal property taxes. Just to keep the site as a potential development site for the hospital should government want to use it.
Wait a minute, you might say. This marks an about face. What about the money it's going to cost to build at False Creek Flats? In fact, what's the motivation behind all the money that's being paid in taxes?
MLA Spencer Chandra Herbert knows one thing for certain. "The current provincial budget under consideration by the legislative assembly provides no budget for the redevelopment of St. Paul's".
On the other hand, St. Paul's current property is assessed at $370 million already – imagine how much it's worth full of high rises. Providence Health Care will make a killing off that sale when developers finally get hold of it to build condos.
Secrets and Societies
The fact that Vancouver Esperanza Society, a registered non-profit, "has ties to private surgical clinics" is suspect. Could it be that its nonprofit status is for tax purposes only, and not a reflection of the society's values?
Providence Health Care's Legacy Project made no bones about its preference to partner with investors from the private sector. So learning that two of Esperanza's three directors – Hugh McGee and John Woodward – have close ties (one has a working relationship) with the for-profit health care industry isn't surprising.
Serious questions have been raised by the BC Health Coalition (BCHC) about Providence, Esperanza and the land deal. Like why has Providence teamed up with the Esperanza homeboys – "high profile health care profiteers" – to buy land? Where did the money come from? "Who is paying the mortgage"?
Is there a cover up by Esperanza? The coalition asked to see the financial statements and as yet Esperanza has ignored requests. Alice Edge, co-chair of the BCHC added "Upgrading St. Paul's Hospital, a public health facility funded by BC taxpayers, isn't meant to be a gold mine for health care profiteers".
What's Next
The future of St. Paul's is still up in the air. Providence Health Care still has to present a business case and concept drawings to the government for approval. They have a year to produce both.
One can only assume the decision to move St. Paul's was a profit-driven decision. It appears to have little to do with serving the community. Spencer Chandra Herbert is not giving up. And neither will many of the residents who desperately need St. Paul's services to remain downtown.