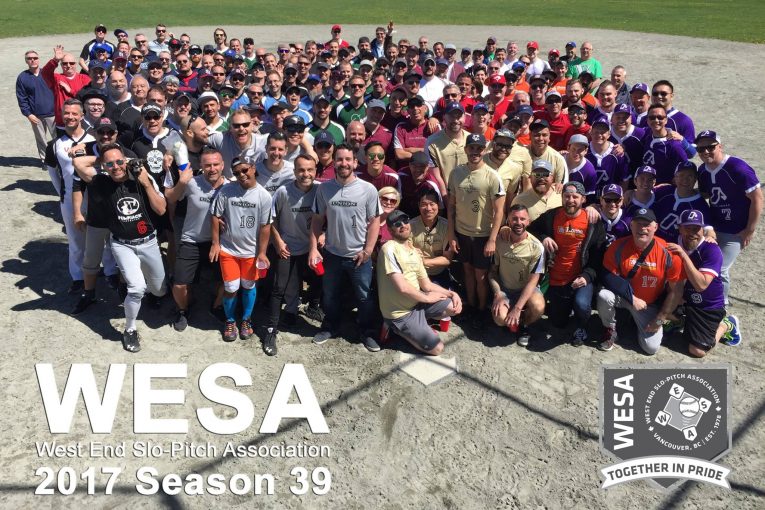 Photo Credit To WESA Facebook
Vancouver's 40 th Baseball Season has Arrived
Although the league started in 1978, it was back in 1975 that the Dogwood Monarchist Society purchased bats, balls, and gloves for use in fun games. It was the year that Little Ray and Bobbi Blake reigned. The fun games format continued for 3 years until 1978 when the first executive was elected and Pete McPherson was the first Commissioner. Bert Curry, Bobby Fraser, and Fraser Biggs were also instrumental in getting gay and lesbian sports-minded people together and formed 4 team in 1978.
The 40 th Anniversary Season starts at Strathcona Park with the Ice Breaker on Sunday April 15 th . It's a day to get the rust out and also meet new players. The regular season of play starts the week of April 22 nd .
Founded in 1978 with just four teams of gay and lesbian sports-minded, fun-loving people who came together to play softball, WESA has grown to support 18 league teams with a diverse adult membership numbering over 260.
The league has continued to grow over the years and now has over 250 members and more than 20 business sponsors. WESA not only organized a season of games but puts on many social events for membership and the LGBT community.
WESA offers two divisions of athletic competition. D division for the developing or recreational player, and C division for the experienced softball player. WESA has been part of the North American Gay Amateur Athletic Alliance (NAGAAA) since 2008. NAGAAA organizes a Gay Softball World Series and brings together 46 participating cities and over 5,0000 players and fans.
WESA's Philanthropy
Over the past 30 seasons, WESA has raised funds for over 30 community organizations and donated over $100,000. In December 2017, WESA made donations to Health Initiative for Men, LOUD Foundation Scholarships, PFLAG Vancouver, Qmunity, and UCB CampOUT.
Interested in learning more about WESA and becoming a player, check out their website here.