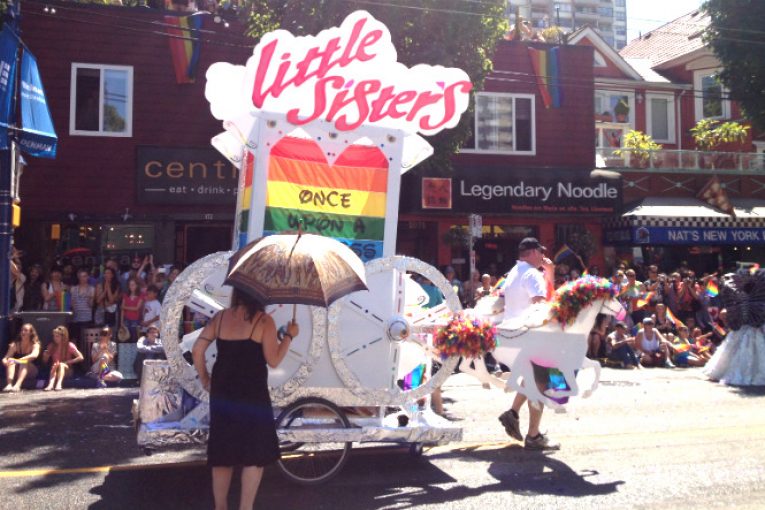 Photo Credit To leiren-young.com
After 33 years, the community standard bearer, Little Sister's, has been sold to a local business man. Well connected to the community, the new owners will carry on the business that started back in 1983.
I spoke with Bruce Smyth many weeks before the opening of Jim Deva Plaza and was alerted to a potential sale, however it was confidential at the time as nothing had been finalized. Bruce Smyth is the life partner of Jim Deva, who we tragically lost in 2014. The two opened the first location of Little Sister's on Thurlow Street, just south of Davie back in 1983.
That first store went through some tough times which included the premises being bombed three times. Back in those days the threat of violence and injury for operating an open LGBT bookstore was real. Eventually the pair moved the store to it's present location on Davie Street, in the heart of Davie Village.
While talking with Bruce Smyth he told me that his own health was a concern and he would like to see the business continue with someone who has ties to the community and can carry on the legacy of Little Sister's that was started 33 years ago.
Little Sister's has always given back to the community said Smyth. There were some tough years, especially during the epic battle with Canada Customs and the eventual ruling from the Supreme Court of Canada. "My accountant once asked, how does it feel to run a non profit" says Smyth. The cost both personal and financial on the pair was high. For many years they would spend every penny on battling for equality.
Don Wilson is a long time close friend of both Jim and Bruce. They also had a long business relationship so this next chapter for Little Sister's couldn't be better. Don is a natural choice to succeed and he will continue to operate Little Sister's from it's roots to the present day. Since 2014, Don has stepped up, stepped in and done what ever was required of him to keep things going after the tragic loss of Jim. He continues to hire dedicated staff from the community and move the business forward.
There will be many in the community who will be saddened by this news of Little Sister's being sold. There will also be a sigh of relief knowing it's in good hands. Don Wilson has many years wholesale and retail expertise and since he and Jim Deva were good long time friends, they shared many of the same values and ambitions.
Davie Village Post wishes Don Wilson and his team all the best. The contribution to community from Little Sister's is hard to put into perspective because the mere magnitude and years of persistence and the epic battles it fought on behalf of us all.
Continued success Little Sister's, Glad your going to be around for a long time to come!