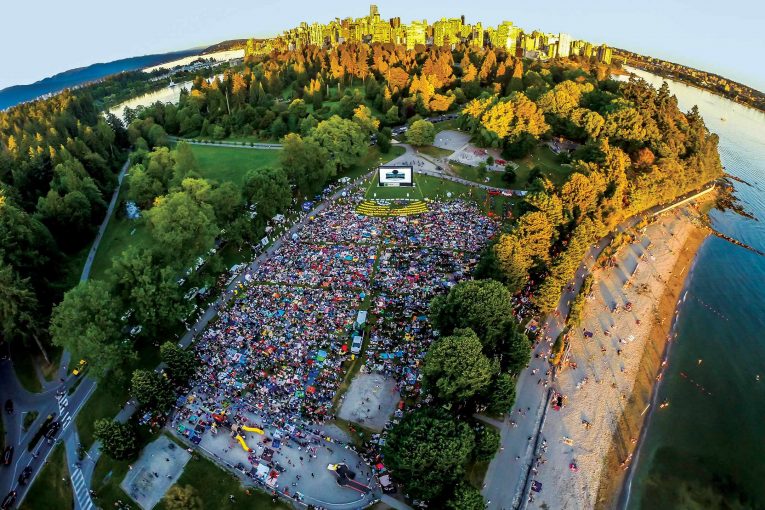 ​EVO SUMMER CINEMA​ – Stanley Park on Tuesday nights this summer! Beginning on July 3rd, and continuing through August 21st, every Tuesday night in Ceperley Meadow at Stanley Park's Second Beach, Fresh Air Cinema will be using their giant, four-storey, inflatable movie screens to deliver a feature film experience under the stars.
What is extra-special about this tenth edition of the popular outdoor movie series is that all eight titles screening this summer in Stanley Park were chosen by the general public through a poll conducted by Fresh Air Cinema earlier in the month. Over 5,000 votes were cast, and each of the winning films were guaranteed to receive a place in the summer line-up.
The 2018 Evo Summer Cinema Series movies, as voted on and chosen by outdoor movie-loving British Columbians, are:
● "The Princess Bride" ​(1987) – Tuesday, July 3rd
● "Stand by Me"​ (1986) – Tuesday, July 10th
● "The Lion King"​ (1994) – Tuesday, July 17th
● "Mean Girls" ​(2004) – Tuesday, July 24th
● "Spice World"​ (1997) – Tuesday, July 31st
● "Ferris Bueller's Day Off"​ (1986) – Tuesday, August 7th
● "Grease" ​(1978) – Tuesday, August 14th
● "Titanic"​ (1997) – Tuesday, August 21st
Movies begin at sundown each night, but there are fun and festivities beginning at 5:00pm and continuing right on through until the show begins.
Als​o, an e​xciting new addition this year will be the ​EVO SUMMER CINEMA MARKETPLACE ​- a carefully-curated weekly offering of local artisans and crafters from right here in B.C. Guests
are encouraged to come see the amazing locally produced, handmade goods that they have to offer.
"People from across BC, Canada and around the world have come together to help make these events a success.​ This spectacular line-up picked by the audience itself is our way of saying thank you​ to all of our fans who come out to support all of our events." explained Jason Bashnick, managing director of Fresh Air Cinema BC.
It's going to be another amazing summer for Fresh Air Cinema and its title partner ​ Evo Car Share​, with friends, food, music and movies every Tuesday for eight weeks in Stanley Park.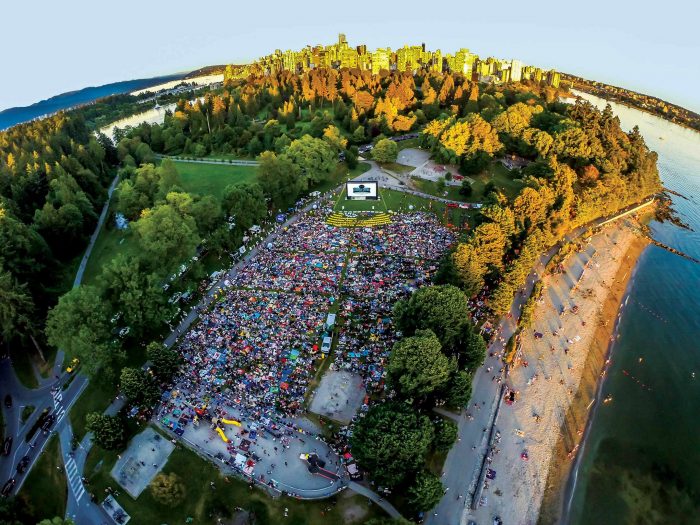 TIPS TO HELP YOU PLAN YOUR EVO SUMMER CINEMA NIGHT OUT:
How to get there?
​(Ceperley Meadow at Second Beach, 8502 Stanley Park Drive, Vancouver):
• Guests are encouraged to walk, take transit or ride a bike to the show. Second Beach is a short seawall walk from the West End and minutes from the Stanley Park bus loop.
• Fresh Air Cinema will be offering a free bicycle 'coat check' service every event night. The Bicycle Valet,provided by Better Environmentally Sound Transportation (BEST) will store your bike, helmet and panniers for free.
• Carpool with friends using Evo Car Share. Free reserved parking for Evo Members is available.
SEATING:
• Grab your picnic blanket or pack the trusty lawn chair down to the park, As always, seating in Ceperley Meadow is free and plentiful. There are many fun pre-show activities to do and see, a weekly offering of food truck fare, as well as all those classic movie treats. Audiences should come early to get a perfect viewing spot and bring along their appetites.
• Fresh Air Cinema has created a 200-seat reserved Gold Circle VIP seating area where guests can reserve a front-row Adirondack chair and enjoy a guaranteed seat at any movie night. In a partnership with several restaurants in the West End BIA, the festival will also be offering nightly "Dinner and a Movie" packages with a three-course dinner and a reserved seat at the show for one low price. These special seating programs go on sale for all films starting Tuesday, June 5 at www.SummerCinema.ca .
FOOD:
• Due to overwhelming demand the ​'Dinner & A Movie'​ program has expanded this year! Working with the West End Business Improvement Association (West End BIA), we will be showcasing a variety of wonderful West End restaurants! Guests will have their choice of seven different three-course dining options each week. Tickets are only ​$35,
​ and include your three-course dinner ​and
​ a VIP seat. Spaces at each restaurant are limited to ten (10) each evening so don't miss out – select your experience soon! Participating venues this year are: Bayside Lounge​, ​Centro​, ​Davie Dosa​ ​Company, Grotto​, ​Timber​, ​The Park​, and ​The Three Brits​.
• ​Foodora​, the on-demand food delivery service, is the exclusive food delivery partner at Evo Summer