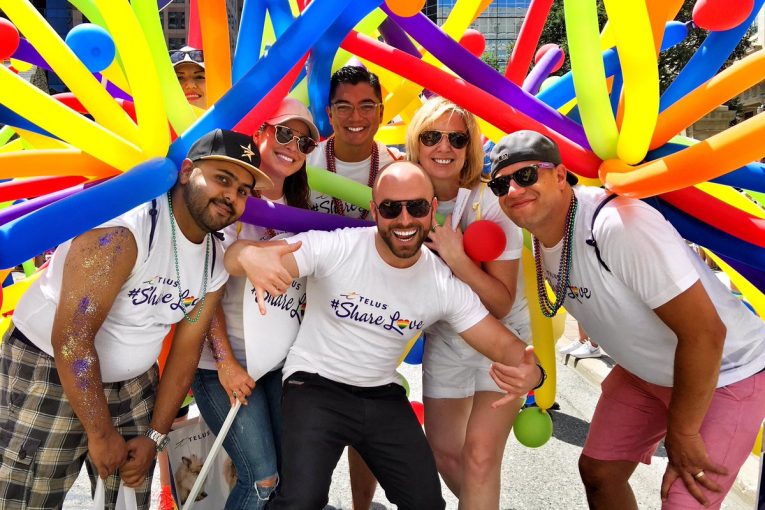 Photo Credit To Telus
To celebrate Pride, Telus asked some of Vancouver's most fabulous LGBTQA+ community leaders to share what Pride means to them.
Tommy D – Event producer, TFD Productions
Janine Fuller – Manager, Little Sister's Book & Art Emporium
Tyler-Alan Jacobs – First Nations fashion designer and dancer
Fred Lee – Social columnist for CBC, The Province and Vancouver Courier
Shanda Leer – Performer, BRATPACK
Colin McKenna – President of PFLAG Vancouver
Danny Ramadan – Author, journalist and Volunteer Coordinator at QMUNITY, Vancouver Pride Grand Marshal 2016
Mandy Randhawa – Event producer, Flygirl Productions
Roan Reimer – Community activist and organizer, Vancouver Pride Grand Marshal 2015
Barb Snelgrove – Promotions Director, Roundhouse Radio, community hero and Vancouver Pride Grand Marshal 2010
Jaylene Tyme – Trans icon, performer and Empress 35 of Vancouver
Tru Wilson – Trans-rights activist, one of Vancouver Magazine's 2015 Power 50
Brandon Yan – Program coordinator, Out in Schools
About TELUS and the LGBTQA+ community:
We have a responsibility to champion diversity and foster a culture of acceptance and inclusiveness, both at TELUS and in the communities where we live, work and serve. Our support for TELUS LGBTQA+ team members dates back to 1992 when we introduced same-sex benefits, well before it was standard practice in Canada. Today, Spectrum – our LGBTQA+ team member resource group – is more than 1,100-strong. Since 2000, the company has contributed more than $3.5 million and TELUS team members have volunteered thousands of hours of service to LGBTQA+ organizations. We are proud to be joining 13 Pride celebrations across Canada this year to spread the #ShareLove message.