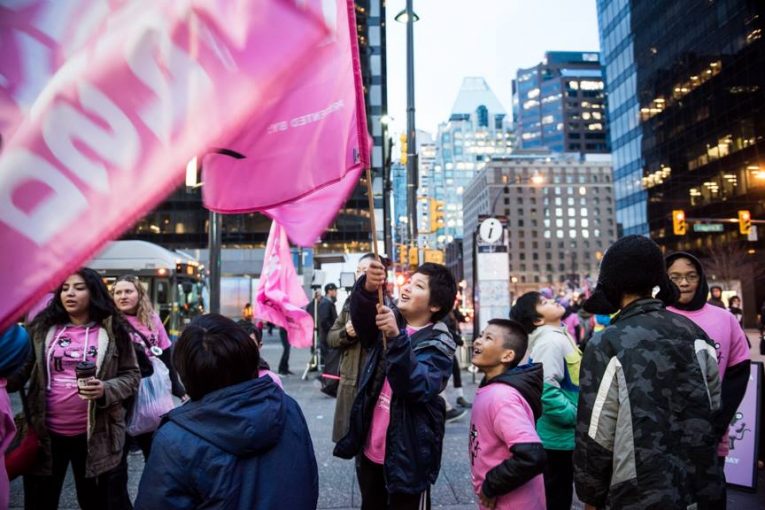 Photo Credit To Pink Shirt Day via Twitter
Out in Schools announces increased reach, impact with renewed funding partnership with TD
28 February 2018 (Vancouver) – Out in Schools, a province-wide program which empowers students and educators to create inclusive school environments, today announced three important milestones on Pink Shirt Day: Out in Schools is proven to further reduce homophobia and bullying for all students, it has now reached more than 100,000 youth across B.C. since its inception, and a new $150,000 investment by TD Bank Group to fight homophobia and transphobia across the province.
Out in Schools and TD officially announced the start of a new three- year funding agreement, doubling a previous commitment with a new grant aimed at supporting the program's growth into the province's rural communities.
As part of TD's investment, Out in Schools will create a new position that will develop curriculum elements that focus on Indigenous and Two-Spirit identities and give presentations across the province.
" As the Premier Education Partner of Out in Schools, TD is proud to continue its support of programs which combat homophobia, transphobia, and bullying and support all students across B.C.," said Lisa Paley, Associate Vice President and Co-Chair of TD's LGBTQ Diversity Committee. "Over the next three years, we will support program delivery, increase province-wide reach, and nurture the development of curriculum tools exploring sexual orientation and gender identity. This investment aligns with our goal to enrich the lives of our customers and employees and build strong communities across the province."
The partnership was finalized alongside an exciting milestone for Out in Schools – the program has reached 100,000 youth in B.C. since 2004. As the only program delivering film-based discussions on homophobia, transphobia, bullying, and inclusion for students and educators, demand for the Out in Schools program has tripled over the past five years, with rural British Columbia representing more than half of the program's reach. It is a recent recipient of the City of Vancouver Award for Excellence for Diversity and Inclusion.
Preliminary results by the Stigma and Resilience Among Vulnerable Youth Centre (SARAVYC) at the University of British Columbia highlights the impact of sharing LGBT2Q+ film and stories in schools. Following a presentation from Out in Schools, girls were less likely to experience discrimination and the odds of boys being bullied were reduced by nearly half. Repeat visits by Out in Schools further decreased the chances of being bullied at school for all students. The research also highlights that the impact of anti-bullying isn't experienced equally across all sexual identities, genders, or other identities.
" This study confirms that Out in Schools is changing lives by telling stories across B.C. not just on Pink Shirt Day but every day of the year," says Stephanie Goodwin, Executive Director for Out On Screen, the charity that produces Out in Schools. "Our partnership with TD enables us to increase our impact and better meet the demand we're getting from teachers in rural communities who have queer, trans or Two-Spirit students in need of these resources."
More information about the Out in Schools program is available at outinschools.com . Out in Schools is an initiative of Out On Screen, a charitable organization that illuminates, celebrates and advances queer lives through film, education and dialogue. Out On Screen also produces the Vancouver Queer Film Festival. The Festival is celebrating its 30th anniversary this year from August 9 to 19.
LINK: Out in Schools