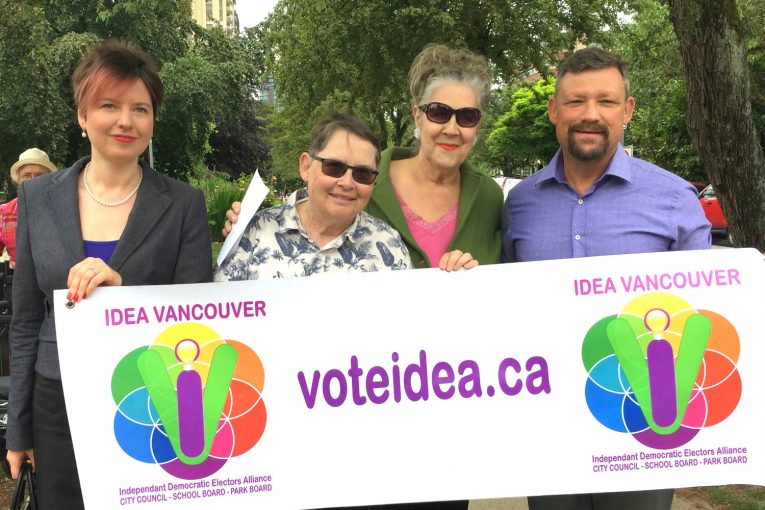 Photo Credit To Davie Village Post
All Queer slate of Candidates to run in Vancouver's Municipal Election
Vancouver declared 2018 Year of the Queer and IDEA Vancouver has announced an all queer slate for the upcoming Vancouver municipal elections on October 20th, 2018.
Meeting at Nelson Park on June 12th, the IDEA team was introduced and the first of many to come mandates were announced. The IDEA Vancouver (Independent, Democratic, Electors Alliance) rolled out it's first platform plank of the campaign.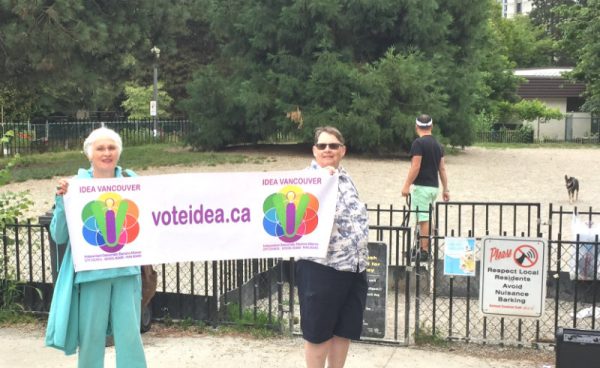 Three of the initial topics announced include: housing,  the use of land parcels including the grounds of St. Paul's Hospital, and the proposed Hydro Sub Station planned for Nelson Park.
IDEA Vancouver candidates spoke out about the proposed sub-station and displacement of the Lord Roberts School Annex. Several local speakers spoke out against the proposed sub-station including Connie Fogal-Rankin, a retired lawyer and former elected Park Commissioner. Also present was an expert in electromagnetism who explained the dangers of electromagnet fields and frequency as he pointed out the potential dangers. Mole Hill Housing Society executive director Quentin Wright also spoke of the dangers of having a sub-station below a school and the negative impact it would potentially create.
Meet the Candidates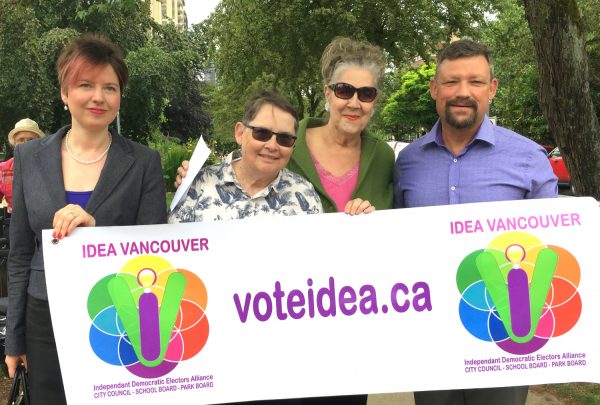 Mayor: John Boychuk
Prominent community member and long time business person. For the past 25 years John has focused on the betterment of the community at large, and often worked as a mentor for small business owners. John chaired one of Vancouver's oldest Business Improvement Associations from 2009 to 2016. A reliable volunteer for countless organizations including International Pride Organizations and chairing the North American Out Games from 2009 to 2012.
City Council: Jamie Lee Hamilton
A trail-blazer for social justice for over 30 years, Jamie Lee was awarded the Community Hero designation by Pink Triangle Press for her tireless activism efforts. In 2018 Jamie Lee provided expert testimony at the National Indigenous Women and Girls Commission of Inquiry. A strong proponent of local and neighborhood decision making, she has been a steadfast watchdog at the Board of Parks and Recreation. Vancouver's LGBTQ2+ community have come to know Jamie Lee as a longtime champion for the rights of youth at risk, minorities, and sex trade workers.
Park Board: Margret Haugen
An activist for human rights. Margret is a lover of Vancouver's parks and wants to protect our parks and provide families with green spaces into the future. Margaret volunteers for many organizations and most recently with Periods On The Street, a nonprofit organization that aims to provide menstrual products to folks with periods in Vancouver's Downtown East Side. A vibrant member of the community as well as a small business owner and athlete.
School Board: B.K. (Barbara) Anderson
B.K. (Barbara) Anderson is a published author and educator who worked for the Vancouver School District for over 17 years. B.K. has produced and directed a variety of documentary and television shows for CTV, the Knowledge Network, Vision TV and CBC. In 1992 she taught video production in Nairobi, Kenya and she has shot documentary films in Beijing, Guatemala, Nicaragua and Kenya. B.K. has lived in East Vancouver for 16 years and with her wife. She has 4 adult children and 3 grandsons.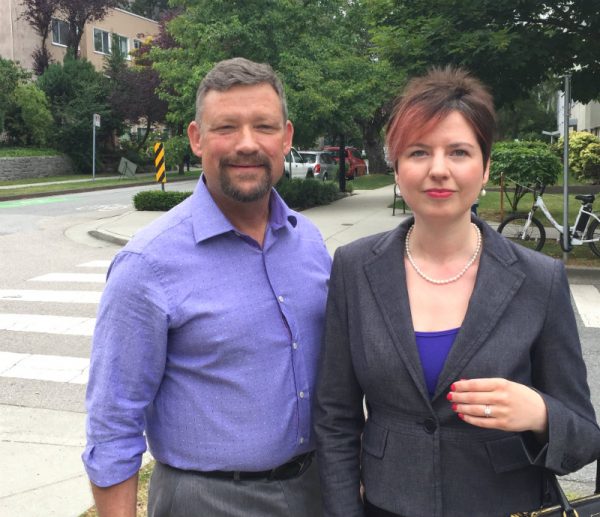 IDEA Vancouver has launched their website at voteidea.ca . Plans are underway to further roll out their platform and mandate over the next several weeks and months leading up to the October 20th election.
Spotted at the IDEA Vancouver launch were Morgane Oger and Rick Hurlbut.  Both Morgane and Rick are political activists and prominent community members.  Morgane Oger is currently Vice President of the BC NDP and Director at the Morgane Oger Foundation.   Rick Hurlbut is seeking a seat on the Park Board as an independent.  Rick regularly attends Park Board meetings and keeps on top of all trends and topics pertaining to the Park Board.  Hurlbut has served on the Pride Board, is a business owner and holds a degree in Parks and Recreation.