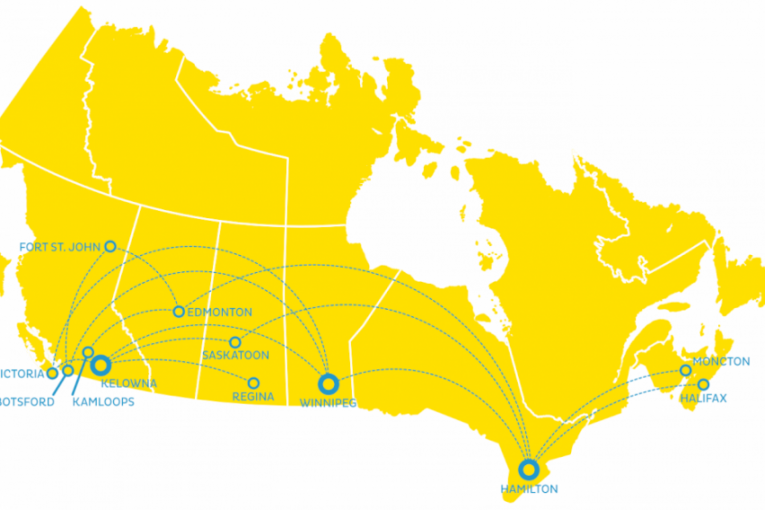 Photo Credit To NewLeaf website
After a brief detour through the Canadian Transportation Agency, which has now approved the airline's ticket re-seller business model, NewLeaf is set to resume operations on July 25, 2016. The ULCC (ultra low cost carrier) will offer twelve destinations, primarily in Western Canada, up from the seven originally proposed, and which are: Abbottsford, Edmonton, Fort St. John, Halifax, Hamilton, Kamloops, Kelowna, Moncton, Regina, Saskatoon, Victoria and Winnipeg.
Initially at least, service will not be daily between any city pair, and not all cities have been paired. For example, while Abbottsford and Hamilton are on offer, there are no direct flights between the two, and neither can you conveniently use connecting flights. It is less a national network, and more a regional framework.
Kelowna, Winnipeg and Hamilton will act as quasi-hubs, but again not for all cities. A route map and basic schedule can be found here: http://gonewleaf.ca/travel-info/route-map-south/.
Initial fares are certainly attractive, with Abbottsford-Winnipeg oneway starting at $132.43, taxes and fees included. Kamloops-Victoria is $79; and Hamilton-Halifax is $166.25. Flights are inventory controlled, and these fare may not be available on every departure.
Canada has not done done well for ULCCs, with carriers such as Greyhound Air, Roots Air, Jetsgo, Canjet, Zip and Zoom being just some of the more recent casualties. Still, NewLeaf's tenacity to come back may prove the exception.