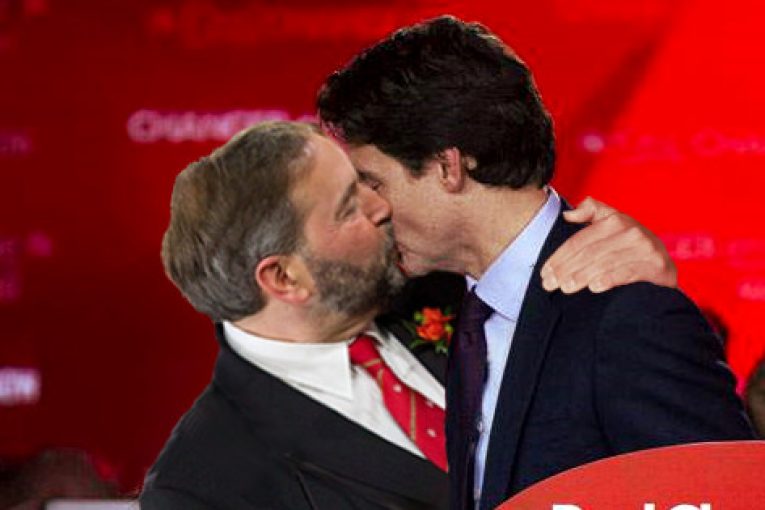 People around the world are being fooled by a satirical article claiming Canadian Prime Minister Justin Trudeau kissed a fellow male politician to support LGBT people after the Orlando shootings.
The photoshopped image shows Trudeau kissing NDP leader Tom Mulcair. The story's headline declares that the two are "united against homophobia."
The article was published on JournalDeMourreal.com, a satirical Quebec website whose name is a play on Le Journal de Montreal , a real French-language newspaper.
"After an event like this, we had to do something," it (falsely!) quotes Trudeau as saying in French. "I approached Tom to see what he thought, but I didn't expect him to be so enthusiastic."
The fake story has so far received over 20,000 likes, shares and comments on Facebook, and is spreading in French-speaking countries. This Tunisian man suggested his head of government should do the same.
Read More Here: https://www.buzzfeed.com/craigsilverman/trudeau-mulcair-tonsil-hockey#DVP
This is the original post in English:
Canadian Prime Minister and opposition leader share kiss to denounce Orlando massacre
Prime Minister of Canada, Justin Trudeau, and the New Democratic Party leader Thomas Mulcair, made a surprising stunt yesterday, to denounce the shooting that killed 50 people in a gay bar in Orlando, Florida.
The two politicians, known for their dislike of each other, gathered for the first time in a joint press conference, yesterday. They completely surprised the media and the world, by kissing languidly for several seconds, to fight homophobic prejudices and denounce the recent violence against the LGBT community.
" What happened in Orlando was so terrible, that we didn't have a choice but to react strongly," said Mr. Mulcair, moments after the kiss . "Unfortunately, many people still have problems accepting the simple fact of seeing two men kissing each other, and that's why this kind of gesture becomes so important. When Mr. Trudeau called me to suggest that we should kiss, I must admit that I hesitated a little. However, he quickly convinced me that it was a good idea! It was for a good cause, and to be honest, it was quite a kiss! "
Read More Here: worldnewsdailyreport.com/canadian-prime-minister-and-opposition-leader-share-kiss-to-denounce-orlando-massacre/#DVP
Note: World News Daily Report is satire – but you knew that, didn't you?