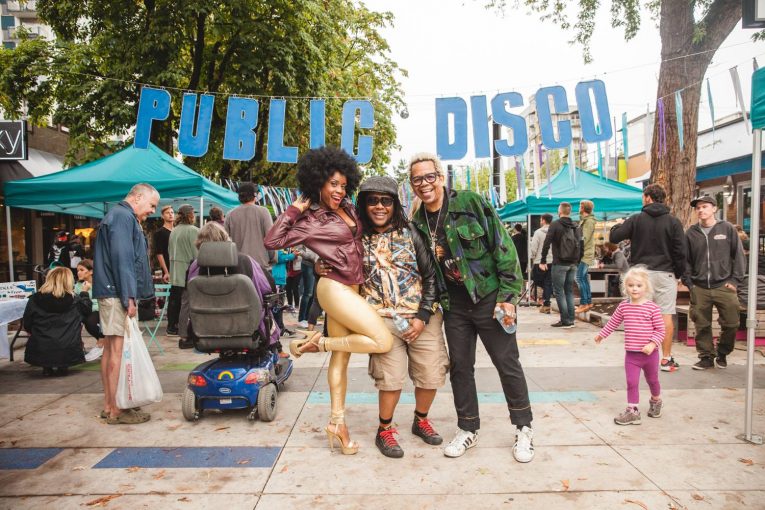 Photo Credit To Public Disco, Jim Deva Plaza, Lumiere Festival
Public Disco Vol 5
Mark your calendars for this high energy dance party at Jim Deva Plaza on Saturday, December 9, starting at 5 pm, and continuing with the disco beats and sights till 10:30 PM.
Public Disco returns for a special undercover winter edition at Lumiere Festival in the West End! Bundle up in your most dazzling winter gear because this is going to be a party!
MUSIC BY
xtine
Zarfan
DJ Taffi Louis
Nathan Mots
PROJECTIONS BY
Lighthead Visuals
FREE WINTER SPARKLE STATION BY
Jena jac
DECOR + SPACE TRANSFORMATION BY the Public Disco team!
WHAT IS LUMIERE FESTIVAL
Lumiere Vancouver is a 10 day long festival of light, art and community. Explore art installations and a variety of street activations nightly at Jim Deva Plaza and English Bay Beach from December 2-9. Learn more at www.lumiereyvr.com.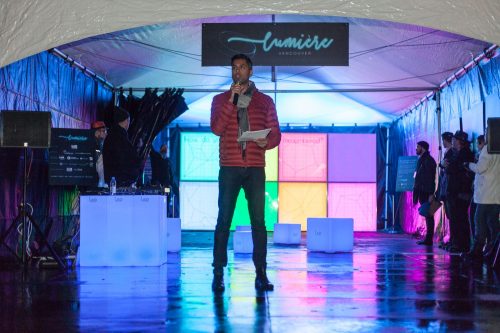 WHAT IS PUBLIC DISCO?
Public Disco is a series of outdoor dance parties that transform plazas, streets and laneways into immersive pop up environments for people of all backgrounds to connect through music and dancing.
TO VOLUNTEER – send us an email at [email protected] .
This event would not be possible without our partners from the West End BIA , Vancouver Pride Society and Viva Vancouver .
We would like to acknowledge that this event takes place on unceded Musqueam, Squamish and Tsleil-waututh Territory in Vancouver, BC.
Our dance floor is a safe space for people of all ages, genders, ethnicities, abilities and sexual orientations. We encourage self-expression, mutual respect and intercultural engagement. When you step into this space, know that you are among friends. Our community is your community. Don't forget to look out for one another.
Public Disco is a project by the folks behind Groundwerk , a Vancouver based music organization that works to connect and grow the local electronic music scene through meet ups, dance events and knowledge sharing initiatives. Learn more at www.groundwerk.ca.