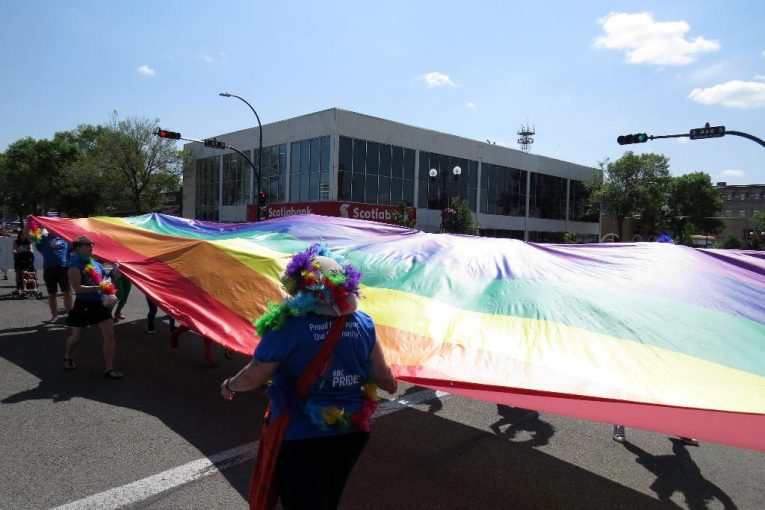 Photo Credit To GayCalgary Magazine
"It is really exciting for us, as a community, to have the mayor come out and paint the sidewalk with our board of directors," Hargreaves says.
The four rainbow-painted crosswalks were paid for by Lethbridge Pride Fest and will serve as an entrance into Galt Gardens for Pride in the Park on June 25 th, but will be on display for everyone to enjoy as part of the celebration this month.
"It's a colourful and exciting time in the city," he says.
This is a big step for a festival that began as a small barbecue eight years ago. Lethbridge Pride has now morphed into an entire month-long event with a variety of daily offerings for people of all ages to enjoy.
"The organization has grown, the partnerships have grown, the number of people attending has grown, the community support has grown; everything is growing and I think it will continue to grow," Hargreaves adds.
While Hargreaves acknowledges more events mean more work, he says it is worth it; more and more community sponsors are jumping on board as well. This is the first time that the organization has been able to put on events every day of the month, ranging from movie nights to dance nights and everything in between.
"I think there is something for everyone at this festival – regardless of your orientation. Pride Fest is for everyone, and it is a great place to come out to show support. If you're questioning your orientation, or just want to sit in the beer gardens and sit in 30 above and enjoy your weekend, you can do that as well. We are very accepting."
Read More Here: www.gaycalgary.com/Magazine.aspx?article=5159#DVP