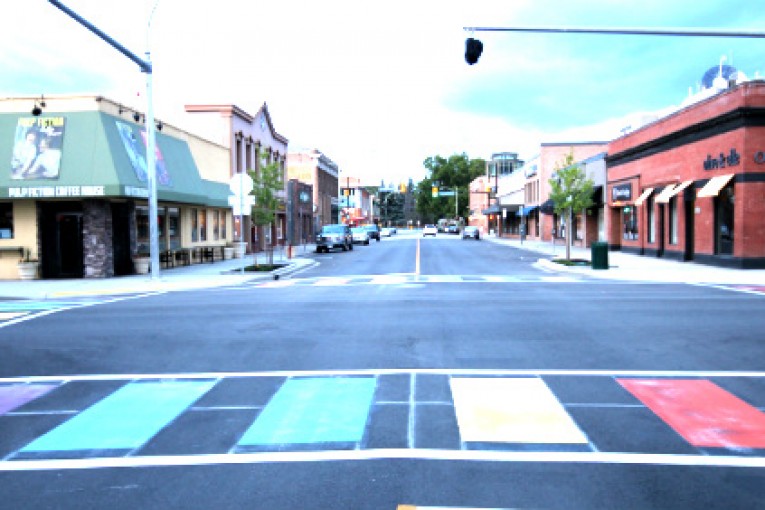 Photo Credit To Okanagan Pride
Okanagan Pride is coming up and Kelowna has a new landmark. Okanagan Pride August 8 – 15th starts in a few days and now locals and visitors will notice the entire 4 way intersection of Pandosy St and Lawrence Ave now has a beautiful rainbow crosswalk.
"I believe all of our community members should live without discrimination. The City of Kelowna has taken this opportunity to demonstrate inclusivity and acceptance in our community" said Mayor Colin Basran.
Kelowna joins other British Columbia cities with the addition of a rainbow crosswalk. Back in 2103 Vancouver's Davie Village got their rainbow crosswalks and recently Victoria and New Westminster got their rainbow crosswalks.
Okanagan Pride kicks off this weekend and runs till August 15th with the annual Pride Rally and March starting at 11am in Stuart Park.
The whole week of celebration starts on August 8th with the first event Pride Unleashed Launch Party
August 8 @ 8:00 pm – August 9 @ 12:00 am Rotary Centre for the Arts, 421 Cawston Ave, Kelowna
Pride Spirit Unleashed August 9 @ 4:30 pm – 5:30 pm Unitarian Fellowship of Kelowna, 1310 Bertram Street, Kelowna
Trans Pride March & #StandforTrans in the Okanagan with Performer Rae Spoon August 11 @ 6:30 pm Sails, Bernard Avenue & Abbott Street, Kelowna
Green Tees Golf Tournament & Dinner August 13 @ 5:00 pm – 10:30 pm Orchard Greens Golf Club, 2777 K.L.O. Road, Kelowna,
North Okanagan-Shuswap Pride – Wine and Cheese! August 14 @ 6:00 pm – 8:00 pm NDP Campaign Office 3023 – 30th Avenue, Vernon
Kings & Queens of the Okanagan – 4th Annual Drag Competition August 14 @ 9:00 pm – August 15 @ 1:00 am Flashbacks, 1268 Ellis St, Kelowna
Pride Rally & March August 15 @ 11:00 am – 11:30 am Stuart Park, Kelowna
Pooches on Parade August 15 @ 11:30 am – 1:00 pm 1600 Abbott Street, Kelowna
Festival at the Beach August 15 @ 11:30 am – 4:00 pm Kelowna City Park Beach, Kelowna
Out on the Lake August 15 @ 1:00 pm – 4:00 pm Executive Boardroom, Kelowna
Pride Unleashed Dance Party August 15 @ 9:00 pm
The Festival at the Beach on August 15th has an amazing line up of entertainment, beer garden and vendor fair kick off at 11:30 am following the Parade.
See more: davievillagepost.ca/4408/okanagan-pride-festival-aug-8-15   Lineup of entertainment
"We are grateful and delighted by the civic support of inclusiveness and acceptance," said Okanagan Pride Society President Wilbur Turner. " Many cities and towns across Canada have installed rainbow crosswalks. Everyone can be proud of who they are regardless of their sexual orientation or gender identity, and this new city landmark is a great reflection of a city with a rich and diverse culture. It is also a reminder that life isn't all rainbows for many people in our community who still face discrimination for who they are"
Wilbur Turner has been a pillar of strength and leadership in the Okanagan and through his hard work and that of his team this year's Okanagan Pride will be the best ever. Our hats off to Wilbur Turner.
Okanagan Pride is a Kelowna based non-profit society providing community building and social activities for the local LGBT community. For more information visit the website www.okanaganpride.com .