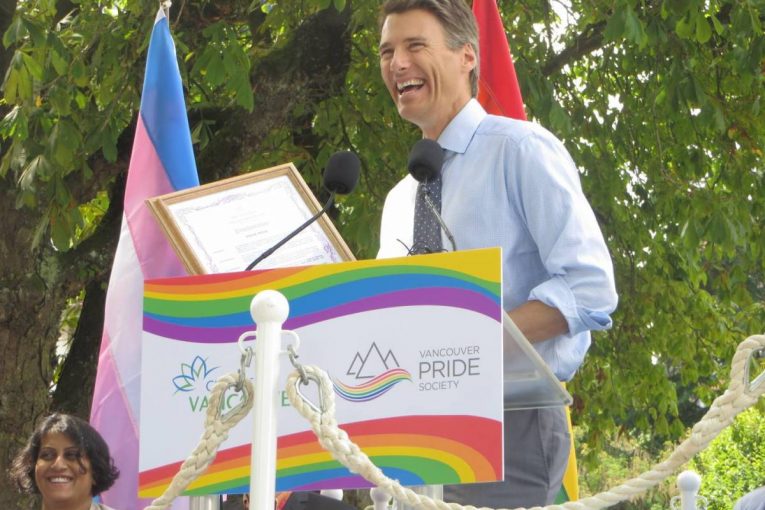 Photo Credit To Craig Takeuchi, Georgia Straight
A small but enthusiastic crowd assembled at the new Jim Deva Plaza in the West End to attend the City of Vancouver's Pride Week proclamation ceremony on July 25.
In previous years, the ceremony was held at Vancouver City Hall, but it was moved to the newly completed plaza this year.
Drag queen host Joan-E spoke about Pride Week as a symbol of "Vancouverites' support for diversity and inclusion in our city".
"I'm proud to live in a city where members of the lesbian, gay, bisexual, trans, two-spirit, and queer community can celebrate openly, and well over 650,000 citizens who come out to show their support during Pride," she said.
Joan-E also noted that during this "troubling time throughout the world", it is reassuring to have support from local politicians.
"It is so wonderful, and I feel so much better knowing that there are so many leaders, not only in our community but throughout the city and province that join with us and think that Pride is such an important part of our city."
Mayor Gregor Robertson spoke about committing to LGBT progress as a means to inspire other communities around the world.
Read More Here: http://www.straight.com/life/743296/vancouver-lgbt-pioneer-jim-deva-remembered-pride-week-2016-proclamation-new-plaza#DVP