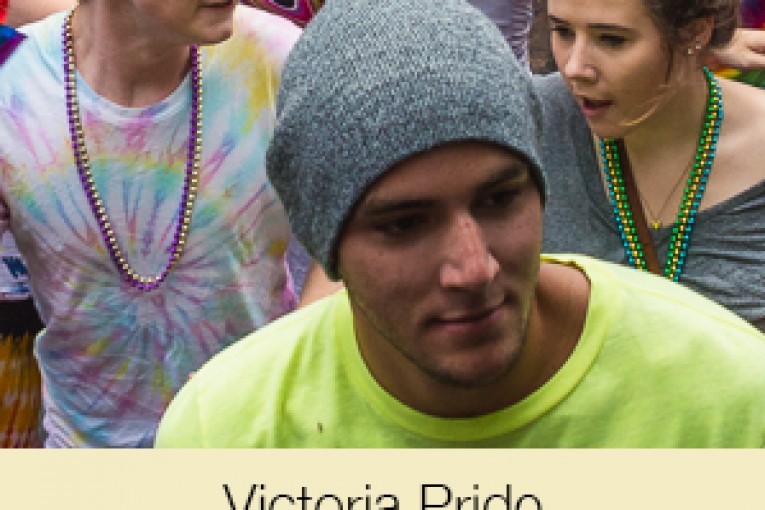 Photo Credit To Victoria Pride
Victoria Pride June 27 to July 5

Victoria Pride week kicks off June 27 at the Belfry Theatre followed by the official after party at Paparazzi Nightclub.   The week is loaded with events which include Pride with Paws just for the pooches.  A Boat Cruise on a Catamaran.   The Karaoke Finale at Paparazzi on Monday June 29th.  Comedy at Pride and the Beach Party will be held at Sugar Night Club.   Wednesday it's the Drag Ball at noon in Victoria West Park,  Mayor Lisa Helps will give a proclamation.  Friday is the Ruff Party and also the Wicked Wench for queer women and their friends.  Saturday: Pride and the Word and over at Paparazzi it's the Paparazzi Pride Party.   Sunday July 5th, Victoria Pride Parade and Festival in the Park.  Want more information on Victoria or need to Book A Room? www.tourismvictoria.com/plan/lgbt-travel/lgbt-calendar See full list of events below.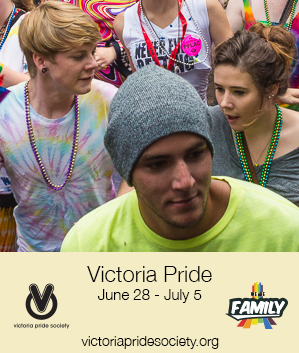 SAT JUNE 27 CabarGAY 8pm Belfry Theatre 1291 Gladstone
Come and kick off Pride Week with our guest hosts Mary Zilba (from The Real Housewives Of Vancouver) & Fiona Forbes (from the Fiona Forbes show on SHAW Vancouver & Victoria) with an evening of song, dance, comedy & burlesque from Victoria's leading LBGTQ performers & their friends.  Featured acts included the Legendary Gouda Gabor & the Cheesecake Burlesque troupe. Tickets $20  ($25 at the door) on sale starting May 28 at the Belfry Box Office, 1291 Gladstone or www.belfry.bc.ca
SAT JUNE 27
Official CabarGAY afterparty 11pm-2am Paparazzi Night Club 642 Johnson St Join the stars from the Belfry Theatre show & let your hair down at the afterparty with a club show & dancing with DJ ronnyb.
__________________________________________________
SUN JUNE 28 Big Gay Dog Walk – FREE EVENT 1pm Dallas Road-foot of Cook St
It's Pride with Paws at Victoria's most scenic off-leash dog park! Bring your pup, or just come and watch the parade of doggie-dress up, agility displays, music & prizes…& of course HOT DOGS!
SUN JUNE 28 Pride Boat Cruise 7- 10:00pm Orca Spirit Catamaran
Set sail from the wharf behind the Coast Hotel for a festive evening full of cocktails & comradery o the water! Free parking in the hotel parkade. Tickets $35.00 at www.victoriapridesociety.org & at
Paparazzi Night Club-19+ only. Tickets cannot be purchased the day of the cruise.
__________________________________________________
MON JUNE 29 Karaoke Idol Finale 10PM Paparazzi Night Club 642 Johnson St
It's the finale to a month-long competition for the Karaoke Idol title with great prizes for the winner & great entertainment for the audience!
__________________________________________________
TUES JUNE 30 Comedy at Pride 8pm Sugar Nightclub 858 Yates St
Tickets on sale May 15, $20 [email protected] $25 @ the door.  Its queer stand up time with the "gays" as Darcy Micheal comes to Victoria with his signature style of jam-packed comedy. Star of TV series Spun Out (with Dave Foley), Darcy has also appeared on the Tonight Show, recently opened for Russell Peters, & was named one of the Montreal Gazette's favourites of the prestigious Just For Laughs Festival. He will be joined by popular Victoria funny woman Shel Suzuki.
TUES JUNE 30 Beach Party 10pm-2am Sugar Night Club $10 at the door 858 Yates St
Join Gouda & the House of Gabor gang for the biggest Victoria Pride week dance party with her Children of the Cheese dancers, top DJ's and special guests www.houseofgabor.com
__________________________________________________
WED JULY 1 Dragball – FREE Noon Victoria West Park
Memorial.. to drag ball Kings and Queens hit the field with a true battle of all sexes in an afternoon of bad softball & great entertainment! Join Mayor Lisa Helps as she kicks off the game with the 2015 Pride Proclamation.
__________________________________________________
FRI JULY 3 RUFF Pride 10pm-2am Paparazzi Night Club 642 Johnson St
Tickets $14 advance at www.mnevents.ca or in person at Lyle's Place or Paparazzi – $18 at the door.  If you like your men next door in leather & denim, come on out & join Colin, Mr. RUFF 2015 for this great dance party with the RUFF boys & guest DJ Karsten Sollors. Presented by Vancouver's MN events…& of course your women friends are welcome too!
FRI JULY 3 WICKED WENCH PRIDE PARTY TBC The Copper Owl 1900 Douglas St
Wicked Wench presents the annual Pride dance party for queer women & their friends
__________________________________________________
SAT JULY 4 Pride & the Word doors 630/7pm start Ambrosia Conference Centre Tickets $10 at the door 638 Fisgard St
VPS presents Pride in the Word 2015 with MC Jacqueline McLaughlin & readings by Ivan Coyote, Michael V. Smith, Arleen Pare, Monique Gray Smith, Robin Stevenson, Ali Blythe, Alfred Depew, Nacho Rodriquez and more.
SAT JULY 4 Paparazzi Pride 10pm-2am Paparazzi Night Club Tickets $10 642 Johnson St at the door
Two big PRIDEtacular Drag Shows at 11pm and 12:30am presented by the House of Gabor plus lots of  action on the dance floor with top DJ's playing today's hits & your favorite Pride anthems.
___________________________________________________
SUN JULY 5 Parade – FREE Noon Government & Pandora
The Pride parade starts at the corner of Government & Pandora & then moves south on Government to  Belleville, down Menzies to Kingston, left on Oswego & ends at MacDonald Park. Watch over 100 colorful groups & floats, or march yourself with local businesses, non-profits, the LGBTQ community & their allies in Victoria's 2nd biggest parade of the year.
SUN JULY 5 Park Festival – FREE 1-6pm MacDonald Park, James Bay
After the parade you can enjoy all the action on both the Main Stage & the Beer Garden Stage with a PRIDEtastic array of entertainment, over 150 food & craft vendors plus activities for children & teens.