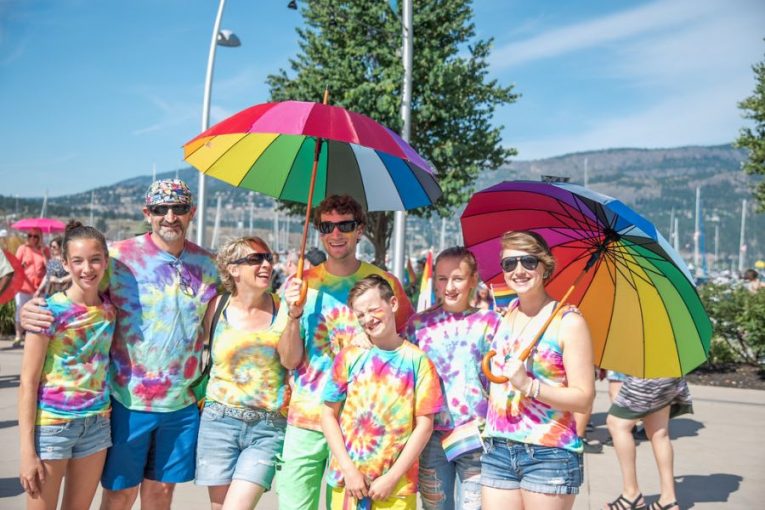 Photo Credit To Kelowna Now
MP Stephen Fuhr – holding onto a huge rainbow flag – guided thousands of people walking in the Kelowna pride rally on Saturday afternoon.
The MP was the grand marshal for the Kelowna pride march and rally, which had the theme "We Are One" this year. Fuhr wasn't the only well-known face, though. Premier Christy Clark made an appearance and so did Mayor Colin Basran and his family.
According to Sydney Lawson, President and Director of Transgender Development, last year's march saw more than 3,000 people. This year, she said more than 4,000 people attended.
Families, friends, businesses and local groups grabbed their colourful clothing, rainbow flags and signs, and gathered at Stuart Park.
For one walker, Jake Spence, this was his second year taking part in the Kelowna pride festivities.
Read More Here: https://www.kelownanow.com/watercooler/news/news/Kelowna/16/08/13/Rainbow_flags_fly_high_at_Kelowna_pride_video/#DVP
Thousands show their pride in Kelowna march
Thousands of people filled the streets of downtown Kelowna on Saturday for a march which made its way from Stuart Park to City Park, all in the name of pride.
From rainbow crosswalks to Mayor Sugarplum getting attention from across the country, many say Kelowna has transformed when it comes to pride.
But it wasn't that long ago that the local pride parade was considered a controversial event.
Read More Here: http://globalnews.ca/news/2881575/thousands-show-their-pride-in-kelowna-march/#DVP