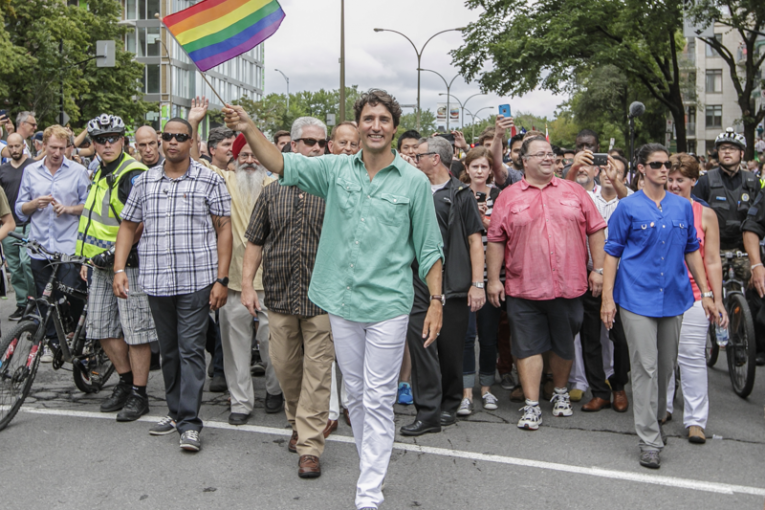 Photo Credit To Dario Ayala, Montreal Gazette
Taking part in his third Pride parade as prime minister on Sunday, Justin Trudeau said the world looks to Canada for leadership in the fight for universal recognition of the human rights of gay, bisexual and transgender people.
Just like in the Toronto and Vancouver parades, Trudeau became the first sitting prime minister to walk in Montreal 's Pride march and was welcomed warmly by the thousands of people who came out for the festivities.
In his remarks before the march, Trudeau said it's still important for politicians to take part in Pride parades because "there is still a lot of work to do."
The governing Liberals recently introduced transgender rights legislation. Reports last week said Ottawa will soon offer a formal apology to people in the LGBTQ community for past state-sponsored discrimination.
"We know people look to Canada to see the example," he said in French. "And we will continue to work hard to push the limits of what other countries do because we have to send the message that LGBTQ rights are human rights."
Read More Here: http://montrealgazette.com/news/local-news/justin-trudeau-and-philippe-couillard-expected-at-pride-parade-in-montreal#DVP
Justin Trudeau 1st sitting PM to march in Montreal Pride parade
Thousands showed up to take part in the annual downtown festivities
Prime Minister Justin Trudeau, Premier Philippe Couillard and Montreal Mayor Denis Coderre were among thousands taking part in Montreal's annual Pride parade this afternoon.
Trudeau is the first sitting prime minister to take part in the city's Pride celebration, according to organizers.
Read More Here: http://www.cbc.ca/news/canada/montreal/montreal-pride-parade-2016-1.3720165#DVP
Montreal Pride parade celebrating 10 years of diversity
Montreal's annual Pride parade, caps off a week of musical performances, sporting events and a slew of other activities in what is billed as the largest LGBTQ festival in the francophone world.
The parade kicked-off at 1 p.m. Sunday at the corner of St-Mathieu Street and travelled east on René-Lévesque Boulevard, ending on Sanguinet Street in the Village.
Read More Here: http://globalnews.ca/news/2881934/montreal-pride-parade-celebrating-10-years-of-diversity/#DVP
In Montreal, Pride Is Fierté
See Photo Gallery Here: http://www.advocate.com/pride/2016/8/17/montreal-pride-fierte-photos#related-slideshow