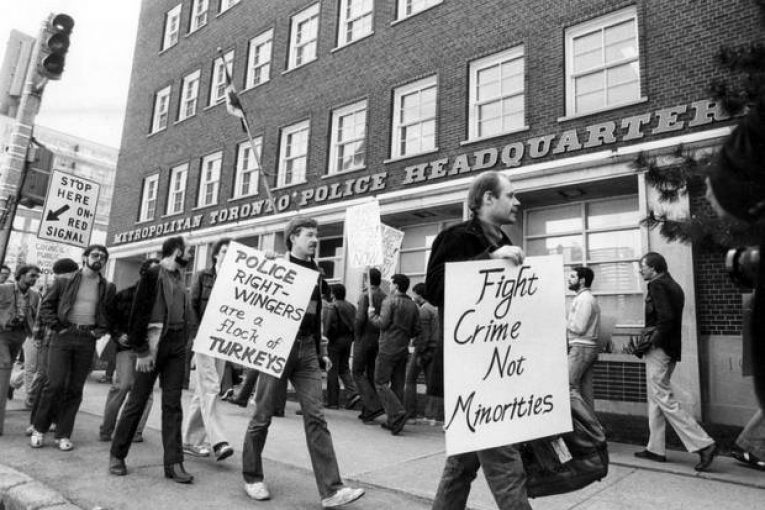 Photo Credit To Edward Regan, The Globe and Mail
For the Canadians who suffered during the government's efforts to purge the public service and military of homosexuals, the Liberals' planned apology is more than a symbolic gesture, it holds real meaning
In 1977, Diane Pitre had everything to look forward to. At only 19, the young supply technician had a good job in the military and a long career ahead. Until the day the military police arrived and asked her about her girlfriend.
"Interrogation several times a week, at night in undisclosed areas by men that made you feel like a nobody, and this for months," she recalled this week of what followed. Her expulsion from the service for being homosexual at the end of this misery made her feel worthless, ashamed.
Even now, almost 40 years later, "not one day goes by that I don't think of this." That's why Ms. Pitre joined an online group of people who were forced out of the military or public service because of their sexuality called We Demand an Apology. As early as this fall, she will get it.
Justin Trudeau's decision to apologize formally on behalf of all Canadians to those who were persecuted and prosecuted because of who they loved is a mostly symbolic gesture.
What matters in the here and now is the reforms that will accompany that apology: making the age of consent uniform, regardless of the type of sex people practice; clearing the records of those who were criminally convicted of gross indecency simply because they were gay; scrapping antiquated laws that still target sexual minorities, even if those laws are rarely enforced; providing training to police, lawyers, judges and border guards on issues surrounding sexual minorities; examining whether and how to compensate those who still suffer today because of opportunities lost through past injustice.
Read More Here: http://www.theglobeandmail.com/news/real-healing-can-come-from-a-symbolicapology/article31389027/#DVP
Apologies to homosexuals don't reverse the harm. Deeds, however, do
Apology is a tricky thing for us humans: wounds abound. It presumes a meaningful offence, but: When is it necessary? To whom is it meaningful? Where does it end?
John Ibbitson reports in The Globe and Mail that Canada's government will apologize to homosexuals in its employ whom it harassed, defamed and fired in the many years through the 1990s. He writes: "In choosing to act … Justin Trudeau has decided to complete a process begun by his father almost 50 years ago."
This refers to the decriminalization of homosexuality in 1969, a decision announced by prime minister Lester Pearson when Pierre Trudeau was Canada's justice minister. ("The state has no business in the bedrooms of the nation," said Mr. Trudeau – a quote lifted from a Globe editorial at the time.)
It was an excellent change of law, enacted soon after Mr. Trudeau became prime minister in April, 1968, on the very weekend that many U.S. cities burned up after Martin Luther King's assassination. In the political theatre of the time, Mr. Trudeau's rise to PM in the face of America's descent to anarchy helped to define this country (as circumstances do as well today).
On this file, Pierre Trudeau's legacy is clear, and all of us who emerged in time as gay had one great weight removed. We could now get into our own trouble legally (mostly).
Read More Here: http://www.theglobeandmail.com/opinion/apologies-to-homosexuals-dont-reverse-the-harm-deeds-however-do/article31388520/#DVP
Prime Minister Justin Trudeau To Issue Apology For Persecution Of Gay Canadians