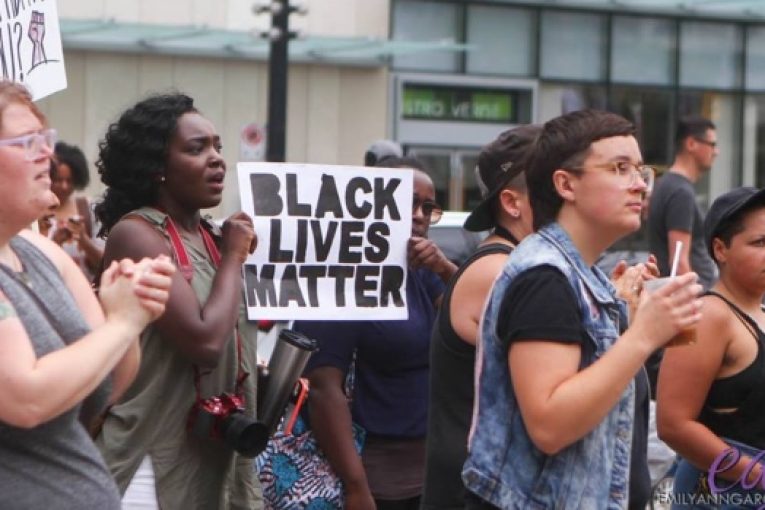 Photo Credit To Black Lives Matter Vancouver/Facebook
VPD says it will work with all community groups to, 'build a more inclusive Vancouver'
Black Lives Matter Vancouver is asking police to voluntarily withdraw its float from the upcoming Pride Parade, as a "show of solidarity and understanding" that officer involvement in the march creates an unsafe atmosphere for some communities.
The open letter published by the activist group on Friday comes weeks after its Toronto counterparts halted the city's parade until organizers signed off on a list of demands including banning police
floats from future marches.
The Vancouver chapter said it stands with Black Lives Matter Toronto in its discontent with police marching in the parade.
While having police on the ground to perform a civil service is understandable, allowing officers to participate on a float is "insulting" to protesters who made Pride celebrations possible, it said.
"We acknowledge that in certain contexts police presence to perform a job of civil service may deter acts of homophobia and violence, especially at designated queer events such as Pride," the letter said.
"However, we cannot divorce the policing institution from its historical and continued violence against Indigenous and (minority) communities, racial profiling, or inaction around our missing Indigenous women."
Read More Here: http://www.cbc.ca/news/canada/british-columbia/black-lives-matter-vancouver-pride-1.3682133#DVP
Black Lives Matter Vancouver ask city's police department to withdraw from Pride parade
Black Lives Matter Vancouver issued an open letter today (July 15) to the Vancouver Police Department and the Vancouver Pride Society.
A series of events in both Toronto and Vancouver have led up to this request.
The Toronto chapter of BLM brought the Toronto Pride parade to a standstill on July 3 by refusing to move until their demands were agreed to by the Toronto Pride executive director. Their requests included the removal of police floats and booths from the parade. The move sparked controversy and debate.
On July 8, the Vancouver Dyke March announced that they invited BLM-Vancouver to be the grand marshal for the march.
Then on July 12, the Vancouver Pride Society released a statement about their commitment to creating safe and inclusive spaces for everyone. They stated that included "reaching out to Black Lives Matter Vancouver after the Toronto Pride Parade".
Read More Here: http://www.straight.com/life/737911/black-lives-matter-vancouver-ask-citys-police-department-withdraw-pride-parade#DVP