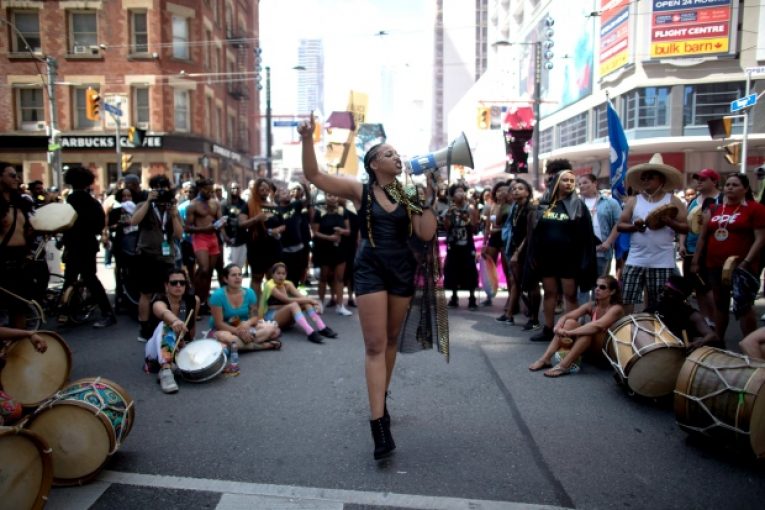 Photo Credit To Mark Blinch/Canadian Press
'We are not taking any space away from any folks,' said Alexandra Williams, co-founder of BLM Toronto
Members of the Black Lives Matter Toronto group briefly halted the Pride parade today, holding up the marching for about 30 minutes.
The parade didn't re-start until after Pride Toronto executive director Mathieu Chantelois signed a document agreeing to the group's demands.
The organization was given the status of Honoured Group for the parade, which is the grand finale of Pride Month. It did not give Pride Toronto advance notice of their planned sit-in.
Alexandra Williams, a co-founder of Black Lives Matter Toronto, told CBC's Natasha Fatah that they held the sit-in because they wanted to hold Pride Toronto accountable for what she called "anti-blackness."
Read More Here: http://www.cbc.ca/news/canada/toronto/pride-parade-toronto-1.3662823#DVP
Black Lives Matter protests at historic Toronto Pride Parade hosting Justin Trudeau
Canada's largest Pride parade was stopped for about 25 minutes on Sunday when protestors from the Black Lives Matter movement staged a protest on the parade route.
At about 3:15, the BLM protestors, who had a float at the front of the parade, stopped about two thirds of the way along the route at Yonge and College, saying they would not move until Pride agreed to a list of demands. Soon after, Pride Director Mathieu Chantelois met with the protest and signed the document.
A few moments later, the parade continued.
The group said, among other things, it demanded and won a ban on police floats at the parade and a commitment from Pride to hire more "black trans women, black queer people, indigenous folk and others from vulnerable communities."
Read More Here: http://news.nationalpost.com/news/canada/black-lives-matter-protest-at-historic-toronto-pride-parade-with-justin-trudeau#DVP
Black Lives Matter stages sit-in at Toronto Pride Parade
A sit-in protest staged by Black Lives Matter- Toronto at the Toronto Pride Parade is sparking controversy after the group presented a list of demands that includes barring police floats from future parades.
The group, which had been invited to participate in the parade, brought the event to a stand-still for several minutes with a sit-in near Yonge and College streets this afternoon.
The parade only resumed after Pride Toronto Executive Director Mathieu Chantelois signed a list of demands presented by the group.
In addition to demanding that police floats no longer be a part of the parade, the list included stipulations that Pride organizers commit to continued space, funding and logistical support for the group Black Queer Youth and that organizers make a commitment to more Black deaf and hearing ASL interpreters for the festival.
"Pride Toronto has shown little honour to Black queer/trans communities, and other marginalized communities," the group said in a statement. "Over the years, Pride has threatened the existence of Black spaces at Pride that have existed for years."
Read More Here: http://www.cp24.com/news/black-lives-matter-stages-sit-in-at-toronto-pride-parade-1.2971592#DVP