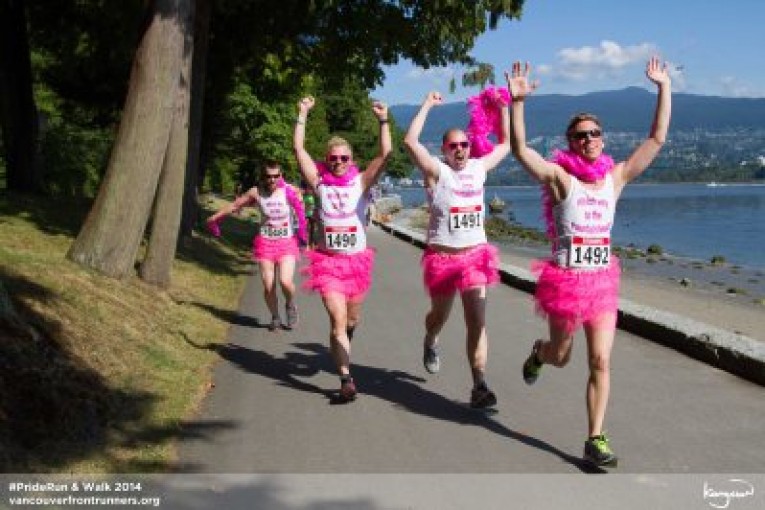 Photo Credit To Vancouver Front Runners
Vancouver Pride Kick Off Event
Vancouver Frontrunners are thrilled to announce the return of PRIDE Run & Walk for its 11th annual year, kicking off Vancouver Pride Societies Pride Week on Saturday July 25th.
Before you know it Pride will be here and getting warmed up is the Vancouver Front Runners .
How did this all get started you may ask? Vancouver Front Runners have a bit of history behind them.  They started about 11 years ago by a handful of runners and today they have a large group of regulars who get together for walks and runs.
If you want to get in shape you may have found the right group to hook up with.  Not only do Front Runners partner with the Vancouver Pride Society , they also partner with the Health Initiative for Men . "It doesn't matter what shape your in when you start, we will guide and coach newcomers regardless of age, gender or fitness level" says race director Gregg Ambrosi .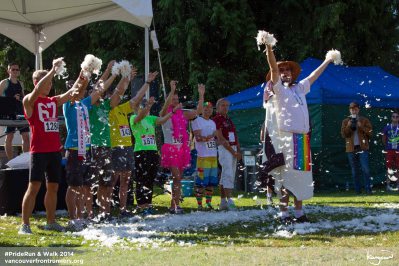 I had the pleasure of speaking with Gregg Ambrosi, Race Director for the 2015 Pride Run and Walk this week to get a inside view of the organizations mission and what makes it RUN. "The whole organization is volunteer based, it's not about being an elite athlete but rather a focus on your ability and working from there.  You can walk, run or do something silly". says Ambrosi.
Talking about silly Ambrosi quipped, "our disco aid stations are a big hit, there are some wild outfits worn by volunteers , and disco music playing".   The Vancouver Front Runners have worked on making their club accessible to everyone.  With the Pride Run still a month and a bit away it's a perfect time to join, get involved as a volunteer, or donate in some other way.  2014 was an incredible year with over $10,000 raised for charity and this year VFR hope to sign up over 500 participants and raise over $12,000 for community beneficiaries 'Out In Schools' and the 'Pride Legacy Fund'.
Of course nothing runs smooth without a team of about 60 volunteers who work the disco stations, hold signs, all the while dressed in their best disco clothes. "There is a strong social benefit to our members and I encourage the public to become involved in their health and the community" says Ambrosi, adding "it's the funnest run in town".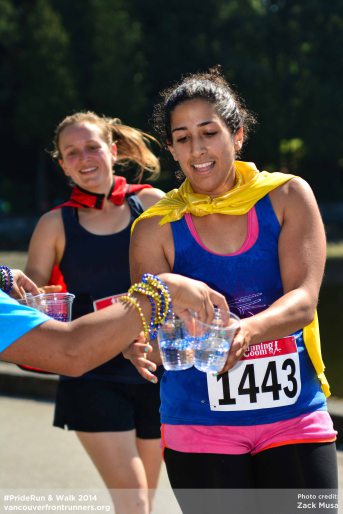 One of the best things about the run is afterward the whole group is right there for Picnic in the Park which is already set up ready to go. All of a sudden the Picnic could swell by 500 or more people. Mark you calendars folks, and bring your pooch. There is a doggy day care available at the picnic.
And a bike valet service will be provided by the BC Rainbow Alliance for the Deaf.
Join the run, or join the walk, a perfect way to start Pride 2015.
Details of the 2015 route are shown below: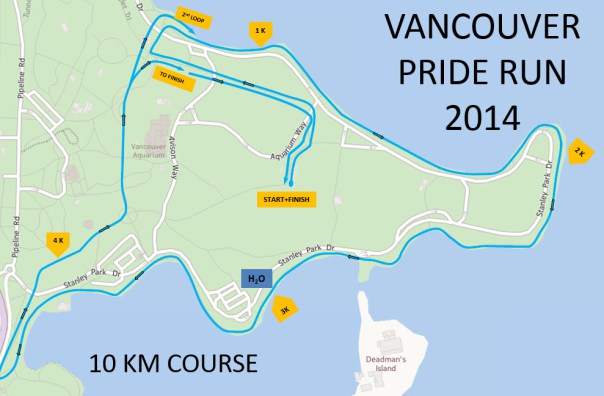 FRONT RUNNERS DO IT AGAIN