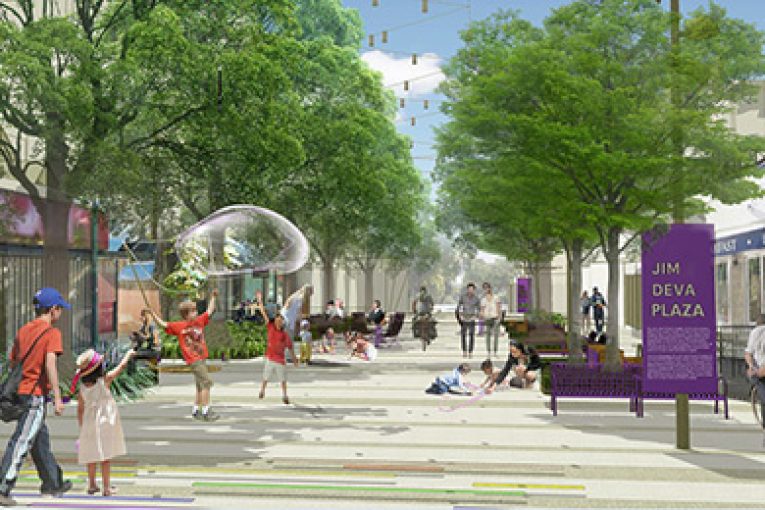 Photo Credit To City of Vancouver
JIM DEVA PLAZA LAUNCH CELEBRATION SCHEDULE OF EVENTS
After a couple of years of consultation with the City of Vancouver and community groups, which included several open houses, the Jim Deva Plaza will be ready for public use.
Where: Davie and Bute Street
When: Thursday, July 28th from 4:30-8:30 PM
4:30 PM: Family Activities
7:00 PM: Official Opening
7:30 PM: Entertainment
It's been a true journey for the LGBTQ2+ community, and as most people know Jim Deva was a cornerstone, a go to person in the community.  I spoke with Bruce Smyth last week as we crossed paths on Nelson Street.  Bruce says he is "proud of what is taking place and is looking forward to attending the opening of the plaza".
"Jim Deva opened the Little Sister's bookstore in Vancouver in 1983. When he ordered material for his gay and lesbian customers, the shipments were delayed, seized and destroyed by customs agents". (the Globe and Mail)
"For nearly two decades, Mr. Deva and Bruce Smyth, his life and business partner, along with store manager Janine Fuller, fought an epic battle against state censorship in the courts. The conflict became known as Little Sister's versus Big Brother". (the Globe and Mail)
Follow Jim Deva Plaza on Twitter : https://twitter.com/jimdevaplaza
‪
The plaza will include; decorative lighting, wider sidewalks, landscaping and public art.
These improvements are part of the West End Community Plan, which goals included:
Invest in Davie Village public spaces
Enhance the area's distinct character as a hub for the lesbian, gay, bisexual, transgender, and queer (LGBTQ) community