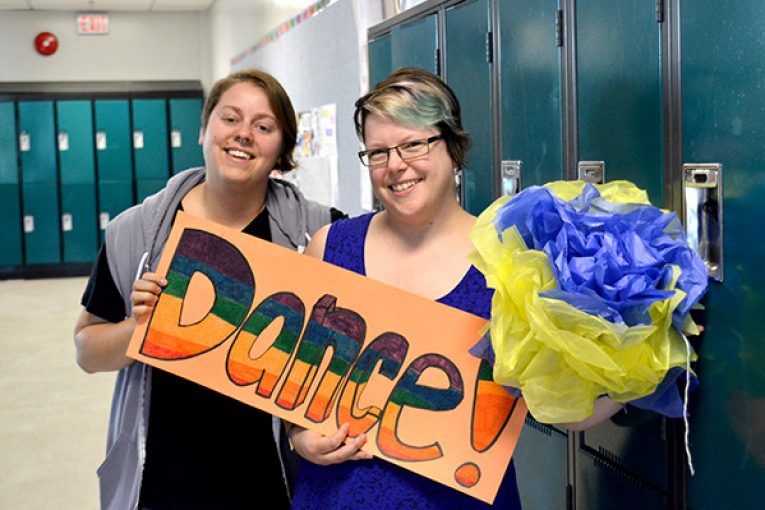 Photo Credit To Amy Reid, BC Local News
School may be out, but Alisa Atchison has one more art project to complete. The 14-year-old from Surrey, B.C., spent her first weekend of the summer making a butterfly-themed mask to wear to her school district's first-ever pride prom.
"I always thought that butterflies were really free … and they're beautiful," she said. "I want to be free and beautiful as well."
Guildford Park Secondary School's gay-straight alliance is hosting the inaugural district-wide dance on Monday evening to give LGBTQ students from different high schools a chance to meet, have fun and feel supported.
"Each student is on their own path and in a different place when it comes to self-acceptance, or being out or not, or figuring out who they are and I think creating that safe space where you can just be who you are, whoever that is, is really, really important," Guildford Park teacher Heather Kelley said.
The idea for a dance came from students who felt LGBTQ youth do not have enough opportunities to connect.
Read More Here: http://www.theglobeandmail.com/news/british-columbia/bc-pride-prom-creates-a-safe-space-for-lgbt-students-to-celebrate/article30517960/#DVP
Or Here: http://www.metronews.ca/news/canada/2016/06/19/pride-prom-creates-safe-space-for-bc-students-to-celebrate.html#DVP
More than 100 students attend Surrey's first-ever 'Pride Prom'
About 120 students attended Surrey's first-ever "Pride Prom" at Guildford Park Secondary Monday night.
"The prom was amazing," said Heather Kelley, teacher sponsor of the school's Gay Straight Alliance club. "It was wonderful and full of such fantastic energy and fun. We will have it again next year."
The event, which was open to high school students district-wide, was embraced by the community, said Kelley. A GoFundMe page had garnered $1,745 in donations.
"I think teenagers really need to explicitly have a safe place where they can be themselves and they can bring their dates and it's specifically a space for them," said Kelley. "There's been a pretty big social push toward that for the last couple years and Surrey has definitely grabbed the bull by the horns in taking this on."
Kelley said when people think about the Surrey school district, many think back to 20 years ago when books portraying same-sex parents were banned, but noted the district has come a long way.
"It's nice to be able to showcase that," she said. "We have really progressive LGBTQ policy within the district. We've moved on. We should be judged by what we're doing now. So it's really exciting to be a part of that. I'm a brand new teacher, this is my second year teaching, so it's been really great to be a part of this."
Read More Here: http://www.bclocalnews.com/news/383984341.html#DVP