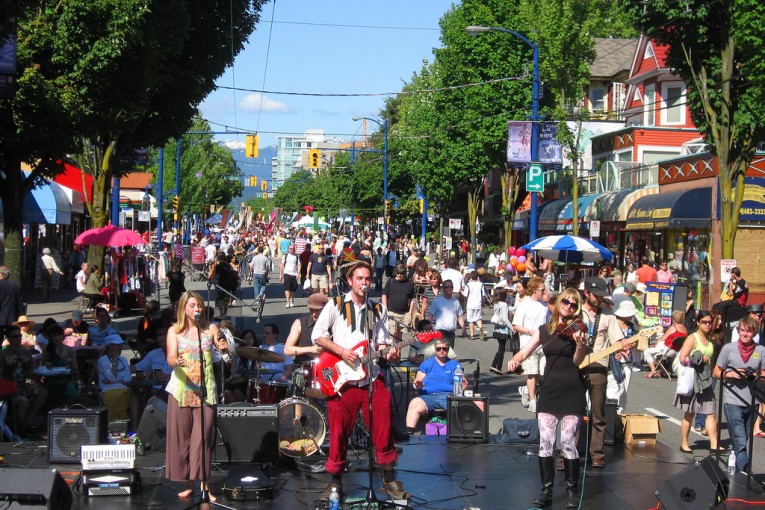 Photo Credit To https://www.flickr.com/photos/dustinq/
Mark your calendars!
The 2015 Car Free Day West End returns to Denman Street on Saturday, June 20 . Now in its eighth consecutive year, Car Free Day invites West Enders out into the streets to celebrate our beautiful community and the things we love about it.
Music, artisans, tasty treats and much more can be discovered on Denman during Car Free Day. It's become a real neighborhood event with many people looking forward to strolling Denman from end to end.
This is a great way to explore the 52 or so restaurants on Denman Street. Let's just put it this way, there is no lack of choice as there is something for every taste-bud. Many shops and temporary stands will be out promoting and selling on the street. Your sure to find something unique!
There have been changes to Denman in the past year with the renovations at Denman Place Mall which now features a new liquor store street front. HSBC Bank is moving next to the liquor store soon and Shoppers Drug Mart will expand to the corner of Nelson. You can't miss the new building across the street as well as construction is now completed and new tenants are not far off.
There is always music, you may see magic or a juggler, and its a great way to enjoy family fun. Why not sit down and have an artist draw your portrait? No traffic means no buses, normal service will continue along Davie and Robson but will be rerouted to accommodate the Denman Street closure.
Bring your hat, shades, friends, family (and your pooches) and have some fun!
Car Free Vancouver Day is celebrated in four neighborhoods throughout the city: Kitsilano, Main Street, Commercial Drive, and on Denman Street in the West End.
Interested in learning more or getting involved? Connect with Car Free West End on Facebook and on Twitter @CarFreeWestEnd and use the hashtags #CFWest and #WeAmaze when tweeting about your Car-Free Day experience.
Watch West End BIA Car Free Day for more details over the coming weeks. We hope to see you June 20!
Photo: La La Boom Boom performing at Car Free Day West End 2014. Photo by Dustin Quasar via Flickr .