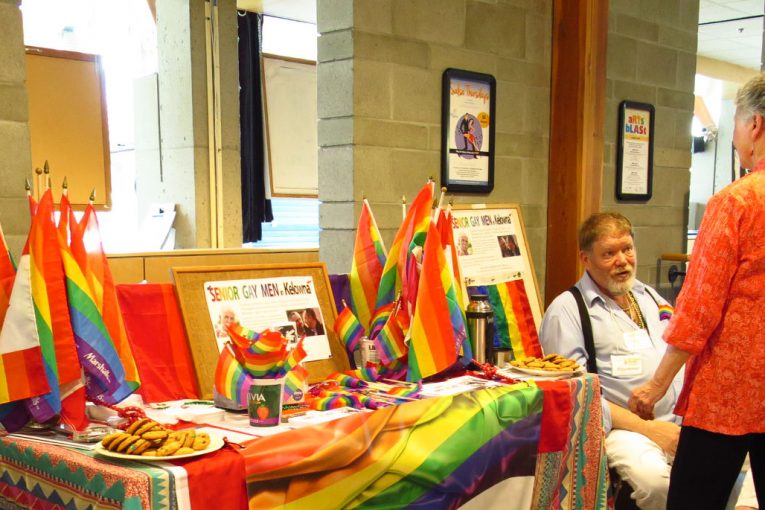 Photo Credit To SGMIK
Senior Gay Men in Kelowna: Success in Numbers (and shoes)
A Solution to Loneliness
One of my fears about growing older is that it's a possibility I may be alone. Dealing with loneliness and living an isolated life brings dark thoughts. We know one of the effects of loneliness can be depression. Senior Gay Men in Kelowna can help you connect to people and phone buddies.
Senior Gay Men in Kelowna is a group of senior gay men and their allies who reside in the Okanagan region. The group facilitates meetings and provides a safe, supportive, and encouraging space for senior gay men to expand their social lives. The objective is to connect, have fun, and enjoy being active in a nonjudgmental atmosphere.
Raymond Koehler, Coordinator/Spokesperson for the Senior Gay Men in Kelowna (SGMIK) works tirelessly to reach out to isolated and reclusive Senior Gay Men. Started in 2013, SGMIK has grown to a network of 600 senior gay men in the Central Okanagan area. It's estimated that more than 7,000 senior gay men live in the Interior Health Region of British Columbia.
Koehler says the solution is social interaction, community integration and information sharing. SGMIK meet twice monthly, and operate a telephone networking service.
Bring Food and Shoe Donations to Okanagan Pride
Active in the Okanagan's LGBTQ2+ community, SGMIK partners with the Central Okanagan Community Food Bank and Shoe Bank-Canada/Kelowna. SGMIK returns to this year's Okanagan Pride Festival site at Waterfront Park in downtown Kelowna.
Visit the Senior Gay Men in Kelowna festival booth, Okanagan Pride Festival on August 19th, and bring your donations. SGMIK will be collecting non-perishable foods donations for the food bank, and lightly worn footwear for Shoe Bank-Canada.
Visit Senior Gay Men in Kelowna website here for upcoming events and contact information. SGMIK meets on the 1st and 3rd Monday each month at 1264 Ellis St., Kelowna. 7 PM to 9 PM
There are never any fees or costs to attend the twice monthly meeting. SGMIK is holding a Potluck Picnic in the Park on Monday, August 21st, 5:30 PM. Location is Sutherland Park, 700 Ellis Street, downtown Kelowna. In case of rain, the event will be moved indoors at 1265 Ellis St.