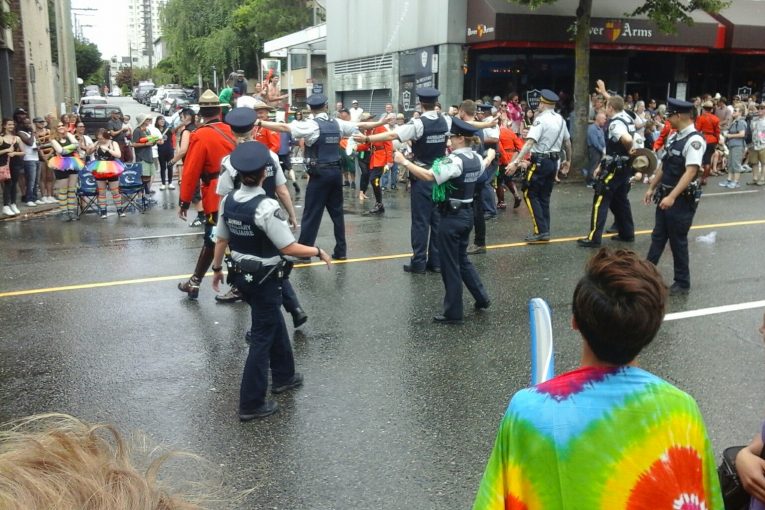 Official Statement: Unedited May 18th, 2017
The Vancouver Pride Society (VPS) has reached a decision regarding the participation of police in the 2017 Pride Parade.
VPS has been working with the Vancouver Police Department (VPD) over the past several months to address concerns expressed by Black Lives Matter Vancouver and other marginalized members of the community, regarding police participation in the Pride Parade. These issues have been raised not just in Vancouver, but also in cities across Canada. We are grateful for the work Black Lives Matter has done to bring these issues to the forefront.
Over the past 10 months, we engaged in intentional conversations with over 300 community members and organizations – including diverse members of the LGBTQ2+
community organizations, the VPD, RCMP and other law enforcement agencies – and through this process, have gathered additional information and understanding of the
barriers to participating in Pride events that many members of our community still face. We also asked questions about how we can make these events even more inclusive.
What we heard from some queer Indigenous people, queer black folks, members of the trans community and LGBTQ2+ people of colour that they do not always feels safe around police, and that policing organizations – like other public institutions, businesses and community organizations – still have work to do when it comes to being more inclusive, and building trust with marginalized communities. We also heard support for the police to participate and appreciation for the work they have done to date to engage with community and break down barriers.
Following the conclusion of our community consultation process, we began a series of meetings with police to discuss options that would make it possible for both marginalized members of our community and members of police to walk side by side in the Pride Parade. The VPD and RCMP, along with other public agencies, were open and willing participants in these discussions, which were both respectful and productive. All law enforcement
organizations we spoke with demonstrated a willingness to listen and understand these issues, and the legitimate concerns of the community.
Today we announce that the VPD and the RCMP have agreed to the following actions for 2017:
Vancouver police officers and volunteers who walk in the Pride Parade will do so as part of the City of Vancouver entry, which also includes staff and officials from the City, Vancouver Public Library, Vancouver Park Board, VFRS and BCEHS. All of these departments will walk in the Parade mixed together, rather than in specific groups or blocks in the entry;
The vast majority of police representatives will walk in t-shirts, while a small portion – about 20 per cent of the contingent, including those officers who are visible in the community – will walk in uniform. All other uniformed City staff walking in the Parade will follow the same guidelines as police;
By request, no sirens be used in the Parade by any participating organizations, including but not limited to police organizations, Vancouver Fire & Rescue, BC Ambulance Service, and Corrections Canada;
There will be no marked police or law enforcement vehicles in the 2017 Pride Parade. The RCMP will have their Diversity Bus, VPD will have an unmarked vehicle, and Correctional Services of Canada will have a white van with a logo on the door;
Both organizations have agreed to participate in a series of listening circles – organized and facilitated by VPS – both before and after Pride, where community members can share their stories with police in a supportive and accessible space, so that we might learn more about each other and find a path to breaking down barriers to trust.
The steps that the VPD and the RCMP have agreed to take in response to community concerns must be the beginning of an inclusive, ongoing process to building new relationships and a new way forward.
At VPS, we believe our role in this process is to facilitate conversations that will help bring about lasting change. We are committed to facilitating continued and growing community trust building activities and discussions between law enforcement organizations and the community, year round. We will continue to expand our work with community partners and support, through our bursary program, community groups who are already creating safer spaces for particular groups and individuals within the LGBTQ2+ community.
Over the past year, our discussions regarding these issues have centred on policing. The Vancouver Pride Society acknowledges that racism, anti-blackness, homophobia,transphobia and other forms of discrimination exist in all Canadian systems and institutions, and that addressing those issues throughout our society is something we need to work together on 365 days a year, not just at Pride. To that end, we look forward to ongoing community consultations and dialogue after Pride 2017.
This has been a divisive issue for many people, including within the LGBTQ2+ community. We hope that the steps taken this year will begin to address the concerns raised by the community. VPS invites every member of the community to come together and celebrate their diversity together on August 6, 2017.
— Vancouver, BC, in the unceded traditional territory of xwm??kw?y??m (Musqueam), sel?íl?witulh (Tsleil Waututh) and s?wx?wú7mesh (Squamish) Coast Salish peoples
All media requests can be directed to: [email protected]
General inquiries and feedback can be directed to: [email protected]