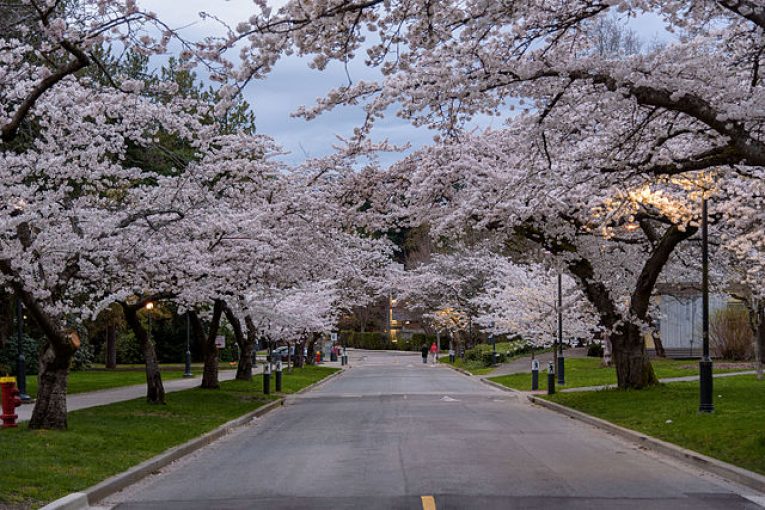 Photo Credit To WikiMedia Commons
The Vancouver Cherry Blossom Festival March 30 – April 23, 2017
Best Places to view Cherry Blossoms in Vancouver
Stanley Park: Formal Rose Garden and Japanese Canadian WW1 war memorial
Queen Elizabeth Park: Blooming till late April throughout the park
VanDusen Botanical Garden: 100+ cheery trees, 24 varieties
UBC: Nitobe Memorial Garden, traditional Japanese garden setting
In your neighborhood: See Map and link to blooms near you.
Link to Map Here http://maps.vcbf.ca/map/
The underlying purpose of the Vancouver Cherry Blossom Festival is a simple one, embracing all citizens of all ages:
Vancouver is home to over 40,000 cherry trees originated as gifts from Japan. The Vancouver Cherry Blossom Festival is a non-profit society founded in 2005.
The Festival inspires participants to express their response to these extraordinary trees in music, poetry, photography, art, design, craft and cuisine. Each year there are more programs. Each year there are more participants. And while fostering community spirit and civic pride at home, the Festival is also building new international friendships and cross-cultural exchanges through the international Haiku Invitational program.
Canada celebrates its 150th birthday in 2017. Vancouver will contribute to this anniversary by celebrating the country's strength, pride, and freedom. Accordingly, the theme for the 2017 VCBF Haiku Invitational will be freedom . Please write your cherry blossom haiku in a context of freedom in all its manifestations.
Link to Vancouver Cherry Blossom Festival website http://www.vcbf.ca/
Please submit your 2017 Haiku Invitational entry here .