Photo Credit To wikipedia,
Finally, He Can Rest In Peace
Gaetan Dugas was vilified as "Patient Zero" and now he has been exonerated by science . For more than three decades Gaetan Dugas was made the scapegoat for the epidemic of AIDS and as a result was condemned around the world.
Back in the early 80's as the AIDS epidemic started to spread across North America and scientists were scrambling to find out more information about the illness, Gaetan was assigned the number zero. This was construed as being the starting point in North America. The problem was that zero did not refer to the beginning of a numerical statistic, zero (0) was meant to describe the letter O and not the number. The letter O was referring to outside of the United States. This confusion was not clarified until just recently and Gaetan was pinned with the moniker of Patient Zero.
30 -30 plus 3 = 33 – 33
In 2013, AIDS Vancouver produced a campaign to celebrate AIDS Vancouver's 30 th Anniversary. The campaign included a video which provides a look at history here in Vancouver. The first community forum by AIDS Vancouver took place in 1983 at the West End Community Centre. Those in attendance included Paul Popham of the Gay Men's health Crisis in New York City and Gaetan Dugas. Video 30 30 AIDS Vancouver: 1983 – The Forum, can be seen below.
And The Band Played On
The term "patient zero" was coined by author Randy Shilt in his book And The Band Played On, published in 1987. The book made news around the continent and the coined words "patient zero" was pinned to Gaetan unfairly, and for decades Gaetan was blamed for bringing an epidemic to North America. Now we know this is not true based on a report in a recent issue of Nature. In Fact, Aids arrived years earlier, perhaps as early as 1976 according to information provided in Nature. Here is a link to that information, which can be downloaded as a PDF.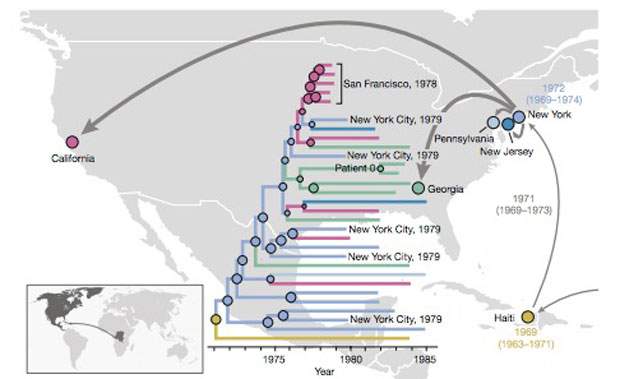 New York Times: "Richard A. McKay, a Cambridge historian and another author of the Nature paper, has long fought for Mr. Dugas's reputation, saying his friends in Vancouver's gay community had painted a sympathetic portrait of him for Mr. Shilts, who ignored it".
"Humanizing Mr. Dugas could help in the fight to end the epidemic, said Dr. Robert M. Grant, an AIDS researcher at the University of California, San Francisco".