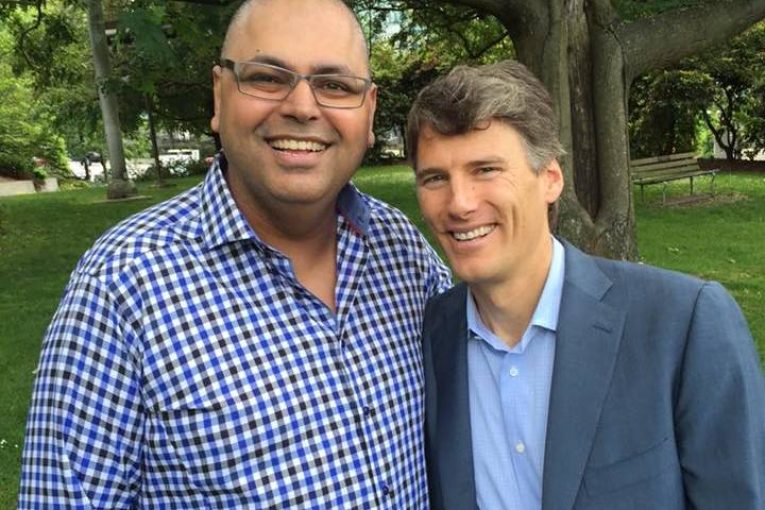 When Alex Sangha started his South Asian LGBT group Sher Vancouver in 2008, the president of a Sikh temple told him there weren't any gay Sikhs. Furthermore, a South Asian radio station took a poll and found that 85 percent of listeners said they would not support gay Sikh group.
Fast forward to 2014 when Sangha received a call from the same Sikh temple, when they sought to work together with Sangha's group to fight suicide ideation, fight HIV and STIs, and depression, to improve the health and well-being of their community.
Sangha told the Georgia Straight by phone that his group has grown from only 15 members at the outset to its current 600-person membership. He said he receives about 10 to 15 emails per week from people interested in being involved, and many people are still struggling with coming-out issues.
Reflecting Sher Vancouver's rising profile, the Vancouver Pride Society named Sangha as one of this year's Pride marshals at this year's Pride Legacy Awards ceremony held on June 18.
"It's a sign that the broader queer community is recognizing queer people of colour as well, as being important and also members of their community," he said. "I think it demonstrates that we all belong to one family and we need to support each other in solidarity and strength, especially with what happened in Orlando where a lot of the people who were murdered were actually people of colour."
He feels it's important to stand up with other minorities.
Read More Here: http://www.straight.com/life/724631/sher-vancouver-founder-alex-sangha-sees-lgbt-progress-surrey#DVP