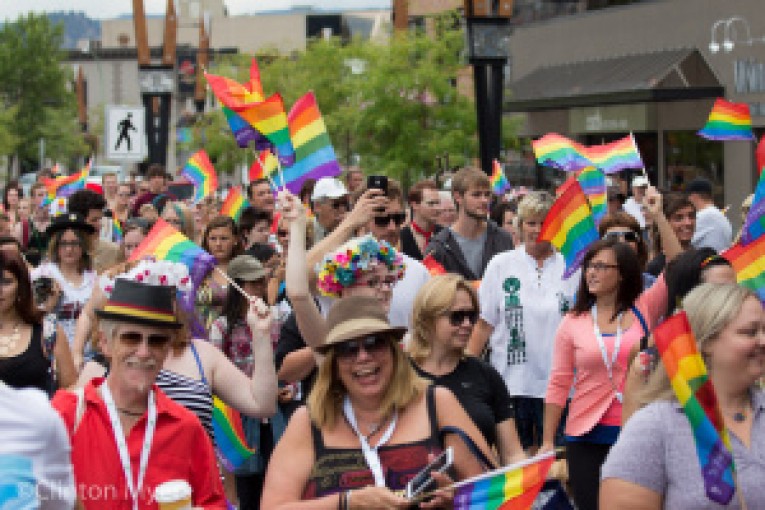 Photo Credit To Photographer: /b6180b57b66e083b3a34d459cd8be414/Tokay.ca
The week long festival is being held from August 8-15, 2015.
Join in the fun at Okanagan Pride this year.  A full week of activities are planned with the big weekend being kicked off with the 4th annual Kings & Queens Drag Competition.
If you are looking for hotel accommodation for the Okanagan Pride Festival we highly recommend you book as soon as possible. This time of year it is nearly impossible to get last minute hotel rooms. Here are some current offers subject to availability: Dilworth Inn 1-800-762-3881
August 8: Pride Unleashed Launch Party – 8 pm following a Queer Art Exhibit opening at the Alternator Gallery. Watch for more details coming soon.
August 9: Spirit of Pride Unleashed – The 4th annual Pride Spiritual event will take place in the late afternoon at the Unitarian Hall. This is a non-denominational, non-religious event to celebrate spirit and Pride and provide a little food for your soul. The event will be emceed by Rev. Barb Samuels of the Centre for Spiritual Living. This event is actually a musical feast! No cover – donations gratefully accepted.
August 11: #Stand4Trans in the Okanagan This will be a free event to raise awareness and visibility of our trans community. It will be held at the Laurel Packinghouse starting at 7 pm. Admission is free. Performance by Rae Spoon , a noted trans artist.
August 12:Pride Roller Derby – watch the fun on wheels with all the colours of the rainbow at Stuart Park. Start time to be announced.
August 13: Green Tees Golf Tournament & Dinner . at Orchard Greens. Come for golf and dinner, or just dinner. Great prizes and hilarity included!
August 14: Kings & Queens of the Okanagan 4th Annual Drag Competition . This is one of the most popular events of Pride Week so you will want to get your tickets as soon as they are released.
August 15: Pride Rally & March – The march will start at 11:00 am and follow the lakeshore path to the Jubilee Bowl in City Park .
August 15: This is the big day! Start with the Pride Rally & March at 11 am followed by Opening Ceremonies at Festival at the Beach in City Park at 11:30 am which includes the crowd favorite Pooches on Parade.
Performances by Patrick Masse , headliners Bec & Sebastian and Sista B and the Boyz . There will be a kids play area with face painting, balloon art and crafts for the kids.
The vendor fair will have lots of variety including food vendors, and the ever popular beer garden. This event goes until 4:00 pm.
August 15: Out on the Lake – a fabulous boat cruise featuring exotic dancers and all the heat you can imagine. The cruise will depart from Kerry Park at 1:00 pm and return at 4:00 pm in time to rest up for the Pride Unleashed Dance Party.
August 15: Pride Unleashed Dance Party – rip up the dance floor with two of North America's top DJ talent – Kasha Kennedy and Showboy . This wrap up dance party will start at 9:00 pm and features go-go dancers and a candy bar!
Keep up to date on all the events at Okanagan Pride Festival here .