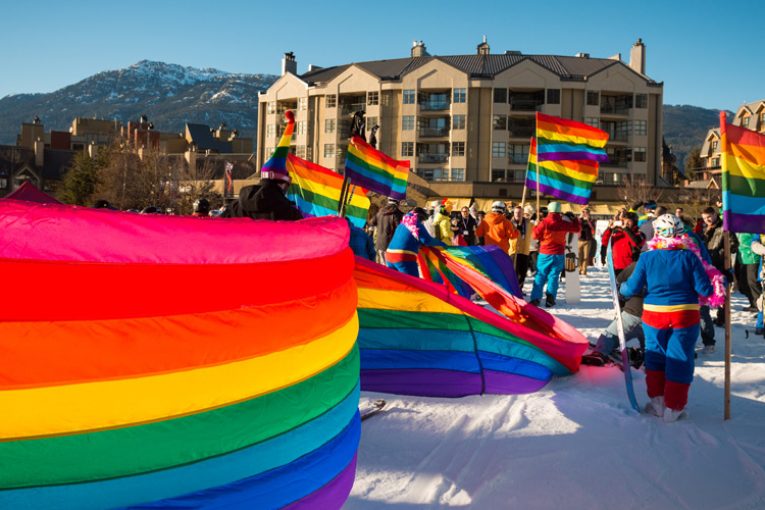 Photo Credit To whistler.com
Pride at 2210 Meters
Whistler Pride and Ski Festival 25,, January 22-29, 2017 is a celebration of diversity on and off the slopes at Whistler, British Columbia, Canada.
Over 3,000 LGBTQ2+ ski and outdoor enthusiasts from 26 countries come together to celebrate Whistler Pride. Formally branded WinterPride, GayWhistler produces Whistler Pride and Ski Festival for the past 25 years. More than just a ski week, Whistler Pride and Ski Festival combines sports, culinary and a spectacular lineup of cultural and entertainment events.
Elevated Guest Experience
Whistler boosts one of the most spectacular ski runs in North America. A vertical mile will get those thighs burning. Considered one of the most beautiful and sensational resort villages to ski, Ski Magazine rates Whistler Blackcomb #1 in North America. The charming Whistler Village has plenty of sites and activities for skiers and non skiers.
Event Highlights
Pride Ski Parade, January 27, 2017
Starts at Base II at Village Run on Blackcomb Mountain and ends at Skiers' Plaza. Skiers bring the massive Pride flag down the mountain to the village. Then march to the Whistler Conference Centre.
Pam Ann: International celebrity Air-hostess will headline Snow Landing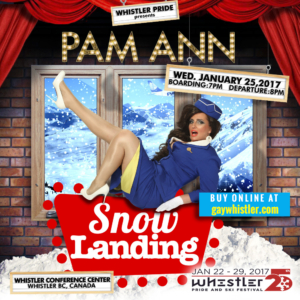 " Cruelly funny. " – Madonna
" Pam looks like a dark-haired Dusty Springfield, though she does not sound like her. – DIVA
"Highly interactive, the show is hilarious" – Le Figaro PARIS
"Just the ticket" – Time Out (New York)
"Superb" – Time Out (London)
SNOWBALL 25 January 29, 2017
Whistler Pride's final night of celebration, Snowball25 – where the festival pulls out all the stops: mega sound, incredible visuals, stunning go-gos in a massive space, tricked out and tech-ed to impress! Headlined by international hit-maker from Italy, THE CUBE GUYS of Sleeping Giant Music.
Booking early is a good idea. After 25 years this event is on the radar of people around the world and getting your preferred accommodations means booking now. GayWhistler website has full details on lodging options, transportation details and lots of other information to make your visit a memorable experience. GayWhistler.com