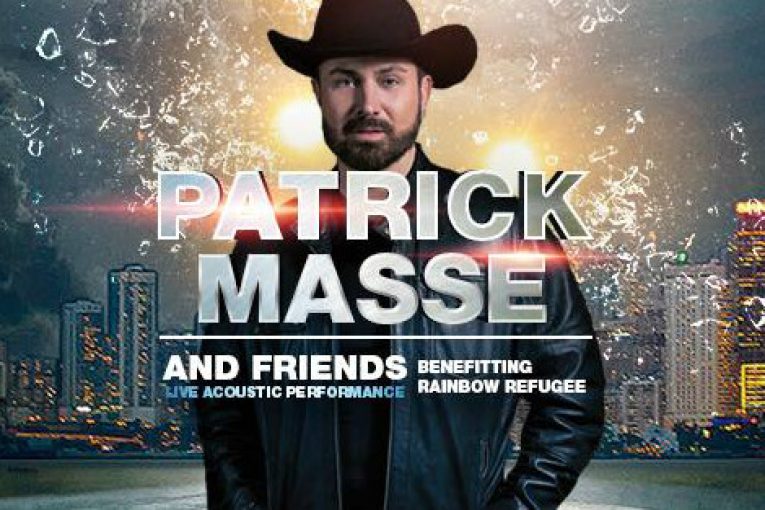 Photo Credit To Patrick Masse Facebook
Patrick Masse and Friends, Live Acoustic Performance
Mark your calendar for Thursday March 22, 2018, as Patrick Masse, Conni Smudge, Zdravko Cimbaljevic, and Vancouver Sisters of Perpetual Indulgence hold a benefit concert for Rainbow Refugee. (event details below)
In a post to Facebook in January, Patrick said "if anyone wonders why I am doing a fundraiser for Rainbow Refugee, this is why! This breaks my heart. People are so cruel and evil", referring to a lesbian couple who were raped, murdered, and burned in a horrific attack.
Rainbow Refugee is a Vancouver based community group that supports people seeking refugee protection in Canada because of persecution based on their sexual orientation, gender identity, gender expression or HIV status. Founded in 2000, Rainbow Refugee Assistance Project has resulted in 14 municipalities across Canada having sponsored LGBTQ+ refugees.
Qmunity, BC's Queer, Trans, and Two Spirit Resource Centre is home to the Rainbow Refugee Committee weekly group meeting. The all volunteer community group meets on the 1st Tuesday of the month, and the 2nd, 3rd, and 4th Thursdays of the month. For meeting times and dates visit Qmunity for Rainbow Refugee Committee details here.
Event details:
Patrick Masse and Friends benefiting Rainbow Refugee
Thursday March 22, 2018
Doors open at 6:30 PM, show starts at 7 PM
$10 Cover
At: club XYYVR, 1216 Bute Street, off Davie Street at Jim Deva Plaza.
From Soundcloud: Patrick's hit song, Little Bit of Saturday