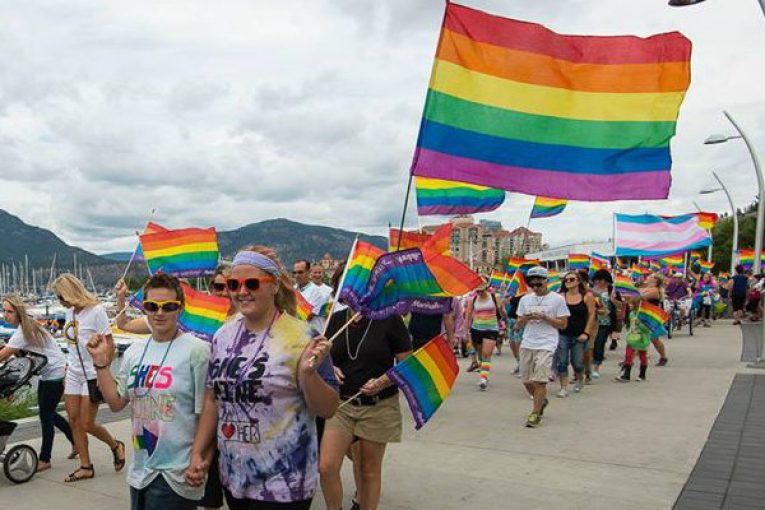 Photo Credit To Okanagan Pride
A Full Week of Celebration in BC's Okanagan
EVENT LINE-UP OKANAGAN PRIDE, Download Pride Guide (link below)
Sat Aug 12: Lustre Launch Party with Fruitcake
Mon Aug 14: 18-Carat Golf Tournament
Thurs Aug 17: Trans March & Social
Fri Aug 18: Kelowna's Next Drag Superstar Competition & Drag Superstar Afterparty
Sat Aug 19: Pride March & Festival in the Park
Sat Aug 19: Radiant Wrap-Up Dance Party
PRIDE GUIDE: Download your PDF guide now
Download the Pride Guide (PDF) now or watch for copies in and around Kelowna and at Pride events.
Family-friendly community picnic on Sunday, August 13, 11-2 at Osprey Park. We are celebrating Pride Week and the beautiful diversity of our Pandosy Village neighbourhood. It's a great chance to meet your neighbours and enjoy our lovely neighbourhood park.
Bring your own picnic blanket and lunch for your family. No alcohol please. There will be family games provided by the City of Kelowna.
Proudly hosted by the Pandosy Village Business Association.
Supported by the City of Kelowna. An affiliate event of Okanagan Pride.
Please note this is a FREE event… the eventbrite tickets are simply for RSVP numbers.
Facebook Event Page for Pandosy Village Community Picnic for Pride Week
Aug 19, 2:30pm – 3:00pm
Following in the footsteps of some of our sister celebrations it is time to bring the LOVE to PRIDE! Celebrant Cristin Platt will be hosting a MASS WEDDING at the Okanagan Pride Festival in the Park this year. Any commitment ceremonies or vow renewals are also welcome to join.
To join this exciting event you simply need to get your own marriage license prior to the day and register with Cristin through here or email [email protected] There will be a rehersal the evening prior to get paperwork in order and have everyone knowing where they will stand and review the legal parts of the ceremony. There will be a small administrative fee charged to each couple participating.