Photo Credit To Reel Youth
Recording Our Community's History
Right now young and aspiring filmmakers are participating in a free 8 session program to learn filmmaking skills. The filmmakers produce short documentaries about senior LGBTQ2+ troublemakers. You may even know one of this years rough crowd of troublemakers.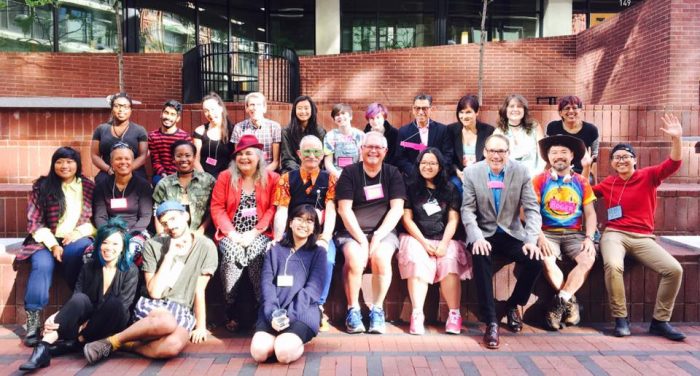 Films to Premiere at the Vancouver Queer Film Festival
The VQFF dates are Thursday August 10 to Sunday August 20 at various theatres including the Vancouver Playhouse, Cineplex Odeon International Village, SFU's Goldcorp Centre for the Arts, VIFF's Vancity Theatre and a new Festival venue, the York Theatre on Commercial Drive. New Artistic Directors Anoushka Ratnarajah and Amber Dawn are excited to bring a fresh perspective to the 2017 Festival. Link to VQFF below.
Youth participants will have their documentaries premiere at the Vancouver Queer Film Festival (VQFF) in August. Last year 10 documentaries premiered at VQFF and were submitted to the Reel Youth Film Festival and Out in Schools.
This unique video project is a collaboration between the VQFF, Love Intersections and Reel Youth.  Last years docs included Bon Spirit featuring Bon Fabian, Journey to Acceptance featuring Kimberly Nixon, Pheonix featuring Sadie Kuehn and shorts with Janine Fuller and David Myers, to mention a few.
Message to the Young
"Protect those rights"
Links: Vancouver Queer Film Festival / Love Intersections / Reel Youth
Davie Village Post is proud to be a Media Sponsor of the Vancouver Queer Film Festival