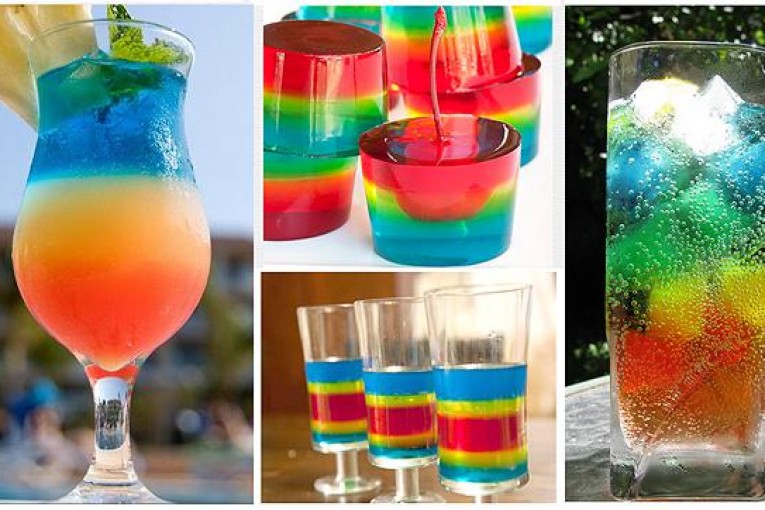 3 WAYS TO BRIGHTEN UP YOUR PRIDE CELEBRATIONS
When summer hits, the preparations begin for Pride week and all its festivities, and I often see friends hosting wonderful parties and gatherings, where they present the most amazing selection of Pride themed snacks, treats, and colorful nibbles and drinks that I've ever seen! I've often wondered, "How do they come up with these things?!" Well today, I'm going to give you a list of awesome ideas to inspire you.
SKIP TO THE GOOD STUFF, LET'S EAT!
As I'm sure you know, whenever you celebrate anything related to Gay Pride, the more colorful, glittery, alternative, glamorous, or eye catching you make things, the better!  SO, getting back to my list of suggestions for a more colorful dining table during Pride, let's start with a great breakfast idea for the morning, to help start the day off on the bright side. Don't forget, whenever you are talking about snacks and treats during Pride week, food coloring is your FRIEND! Don't worry, it won't kill you to add a bit of color.  One of my favorite breakfasts on weekends is pancakes or waffles. A light, sweet treat covered in fresh fruit or berries, topped with whipped cream and a dash of syrup…YUM. These can be super colorful and simple to make – and again, food coloring is your friend here. For some great recipes, check out this fun site where you can get some ideas:
Now that we've got breakfast taken care of, it's time to hit the celebrations. We all know that partying and celebrating is hard work, so when the music has died down and the glitter and feathers has been washed down the street, its time to move on to our next colorful and delicious treat for the day. After being out in the hot sun and soaking up some rays, one fun way to cool down is to serve up some light, refreshing Parfait desserts for you and your guests. Using any see-through serving containers, or even wine glasses, or ice cream sundae cups, layer one thin portion of individually colored Jell-O with a layer of Cool Whip until you have these tasty masterpieces. So cool and yummy, these will knock their socks off and they will come back for more!
And finally, at the end of the night when all the festivities of the day are done and you want to settle in at home for the night, its time for a colorful cocktail! There are several things you can make for you and your guests that will sparkle up the evening. You can always make a mix of beverages that are both alcoholic and non-alcoholic so there will be some choices for a social setting. Whether you want to create a colorful array of fun drinks using existing colored juices or sodas, another option is to simply add a bit of food coloring to your ice cubes before freezing. Adding them to your drinks along with a dash of colored fruit, berries or straws makes a fun, refreshing impression! Check out this website where you will find all the fun recipes you see below and more – enjoy!