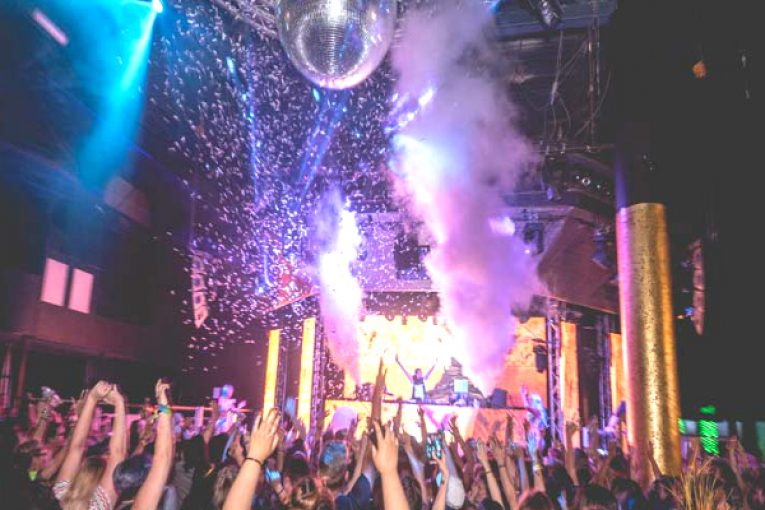 Photo Credit To Hershe Bar
Yes it Exists!
Lesbian Nightlife in Vancouver
The BC Lower Mainland, with Vancouver in its centre, has a population of 1.5 million women which according to current statistics would include 225,000 lesbians. So where do all these lovely people hang out after the sun has set behind the snow capped mountains that rim our beautiful harbour city?
The demise of the Lesbian Bar in cities across North America has been much lamented in blogs and articles online but in Vancouver a new dynamic in lesbian nightlife has flourished in its place. Monthly club nights, dance parties and pop-up gatherings have become so abundant there's something to explore and enjoy every weekend.
Here is a current list of lesbian and lesbian-inclusive events happening in Vancouver. Be sure to click through to the websites to confirm dates and information.
Hershe Bar
FlyGirl Production's Hershe Bar is one of Vancouver's most popular lesbian events. Held every long weekend at the Red Room Ultra Bar (but check their website for venue changes), there is always a great crowd and a packed house. Flygirl also hosts other events, including the famous Chicas Party and Cruise during Vancouver Pride. Typically Hershe appeals to a younger crowd but women of all ages know how to party and this is the place to do it. Website: http://www.flygirlproductions.com Facebook: https://www.facebook.com/flygirlproductions
Wild Fruit
Flygirl's new monthly dance night, Wild Fruit, opened at the gorgeously renovated nightclub, Playhouse in Davie St village this March 2016. From dance and old-school throwbacks to 80s/90s/present hip-hop & R&B, the music appeals to all ages and all styles. Wild Fruit attracts a diverse crowd of women aged 19 through 70! Website: http://www.flygirlproductions.com
Queers & Beers
While this is an open queer event, many of my lesbian girlfriends love it. Usually held on Sunday afternoons, the event features a different brewery each month and explores Vancouver's burgeoning craft brew scene without the bro-culture that often comes with it. The organizers also promise seasonal Craft Beer Tasting Parties coming soon. The venue is typically The Cobalt (and is often followed by Man Up) downtown Vancouver on Main, but be sure to join the facebook group to be informed. Thttps://www.facebook.com/groups/queersandbeers/
Man Up
Man Up describes itself as a monthly gender performance cabaret and queer dance party in East Vancouver. The event is held at the newly renovated Cobalt downtown Vancouver near Science World. You can find more information on their facebook page : https://www.facebook.com/manupvancouver/
LICK Club
The Lick Club was one of the last lesbian bars in Vancouver when it finally closed in 2011. But in July 2015 the organizers produced an event Lick The Reunion Party that was so popular they began to produce regular monthly dance nights – Lick / Queer Fam Jam at Gastown's Hindenburg (formerly known as Club 23 a legendary venue for Vancouver queer community events). On their Facebook page you can read: The legendary Lick Club vibe is in full effect with your favorite Dj's spinning a mix of Hip hop, House, trap, old school, dance hall and mashups. More recently The Lick Club and Ponyboy have been hosting Babes on Babes Vancity #everybodyisababe.  The Lick Club doesn't have a website but you can join the Lick Reunited Facebook group to keep tabs on when and where the events are happening.
Editors note: After their first year as a 'lesbian bar' the Lick Club re-identified as a Queer Bar and remains so today.
https://www.facebook.com/groups/lickclub/.
You can also find Babes on Babes Vancity facebook here: https://www.facebook.com/babesonbabesvancity
The Duelling DJ's Women's Dances
DJ Jakki has been producing her popular women's dances for many years. The Dueling DJ's dances are for women who like a mix of top 40 tunes plus some tunes that take us back to Rock and Roll, Swing, two-step and a little Disco. Usually held at dance halls in Vancouver and the Fraser Valley the events typically appeal to the 40+ lesbian community and end at midnight. Upcoming dances can be found here : http://dueling-djs.com/events.html
Babe Bang
If you're looking for an All Women Play Party, Babe Bang (presented by Rent Cheque's Abby Normal and Lex Gray) is a good place to start. Great dance music, mostly vanilla sex play (paddling and spin the bottle) with a little more serious stuff happening around the edges and later in the night, Rent Cheque provides a safe environment, inexpensive cover and drinks, and a very late closing. The party is 'seasonal' meaning it happens only a few times a year. You can keep up to date by visiting their facebook page – https://www.facebook.com/babebangme
What's On Queer BC
To keep on top of all the events happening for the Vancouver and Lower Mainland Queer LGBTQ+ Community be sure to book mark the online queer events calendar What's On Queer BC http://whatsonqueerbc.com
Photo: Hershe Bar Event