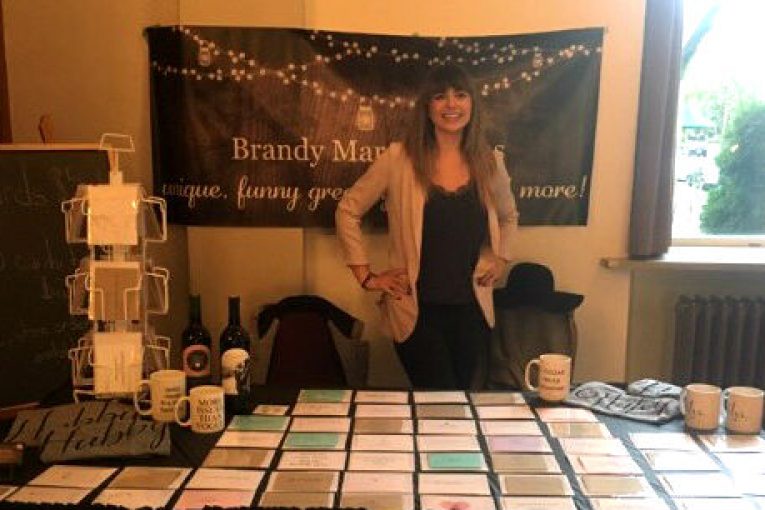 I want to whisper sexy things in your ear. Like "grilled cheese"
Local small business entrepreneur, Brandy Mars has a passion for what she does, creating unique greeting cards, wedding engagement cards, paintings, mugs, and t-shirts. What started out as blog back in 2014, evolved into a card business in November of last year. Now Mars has launched her own website, and on October 21, 2017, was a vendor at the Union LGBT+ Wedding Show in Vancouver.  Community supporting community is important for all LGBTQ2+ entrepreneurs.  The day Davie Village Post spoke with Brandy, she was on her way to her first retail vendor in Yaletown to drop off some of her new card designs.
Passion driven, and with 10 years experience in fashion design, Mars continues to grow her brand by introducing new ideas to the business. People really love her cards, and having a booth at Vancouver Pride proved that for Mars. "Seeing people walk up to the table and burst into hysterical laughter was a highlight of my year", "cards were flying off the metaphorical shelves".
Aside from a wide selection of themes for cards, including Glitter Bomb Cards, Mars continues to paint, often using her original artwork on card, Tote bags, or as a stand alone painting.
Meet Brandy Mars, showing us some new cards, from her car!
Part 2 of my new designs♥️ So excited!! Lots of #weddingday cards for everyone! ?????‍?‍??‍?‍??‍?‍?‍??‍?‍?‍?I could go on and on!! Haha #cutecards #womenentrepreneurs #etsyshop #lesbianblogger #lesbianwedding #gaygift #cutegift #adorableweddings #wedding

Опубліковано Brandy Mars 17 жовтня 2017 р.
Birthdays, Weddings, Valentine's, Christmas, Coming Out, Friendship are a sampling of the cards Mars has created especially for the LGBT person in mind. Whether you looking for that one special card, or wedding invitations, including custom design, your local Vancouver LGBT entrepreneur can make it happen for you. Most orders can be shipped in 1-3 business days, and her Etsy shopping site is the place to check out to see what Brandy Mars Designs to offer.