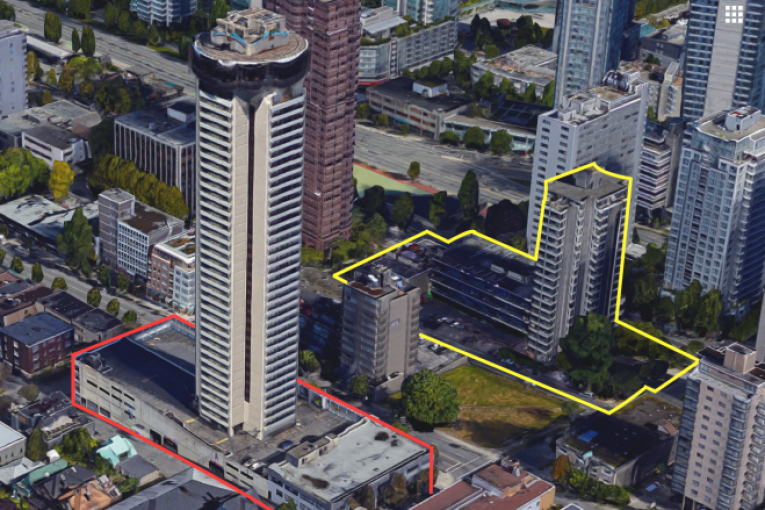 Photo Credit To Google
A Vancouver architect has put forward a preliminary plan to build two mixed-use towers at the site of the Empire Landmark hotel at 1400 Robson, according to a hearing notice published Friday by the Vancouver's development permit board. The preliminary report does not specify whether the existing hotel, best known for its rooftop rotating restaurant, will be torn down. When contacted, a representative for Hong Kong-based owner Asia Standard Hotel Ltd. declined to comment.
The proposal calls for one 28-story and one 30-storey towers, with one floor of retail, one floor of office and 280 dwelling units. Fifty seven of those units will be social housing. The notice published Friday states that the applicant is Musson Cattel Mackey Partnership, a Vancouver firm known for developments like the Trump International Hotel & Tower Vancouver and the Vancouver Convention Centre West.
Occupying a full block in Vancouver's West End, the Empire Landmark is a 42-storey hotel owned by Asia Standard, a publicly listed company that owns three other hotels in Hong Kong. Built for Sheraton in 1971, the 358-room hotel was acquired by Asia Standard in 1997. The application goes before the development permit board on December 12.
Read More Here: https://vanreplaybook.wordpress.com/2016/09/21/vancouver-empire-landmark-to-be-redeveloped/#DVP 
Changing City Updates: 1400 Robson Street
No images of this proposal have shown up yet, although no doubt it'll show up on the City of Vancouver website, and at Urban Design Panel. Musson Cattell Mackey have designed a pair of towers to replace the Empire Landmark Hotel; the 34 story hotel with the revolving restaurant that dates from 1974.
The project isn't a rezoning; it's following the new West End Plan, and the Development Permit Board has the project on their agenda for decision before the end of the year. The scheme has 28 and 30 storey rental towers with 57 units on non-market housing, and 223 market rental units. There would be retail on the ground floor and a second floor of office space.
Read More Here: https://changingcitybook.com/2016/09/20/1400-robson-street/#DVP