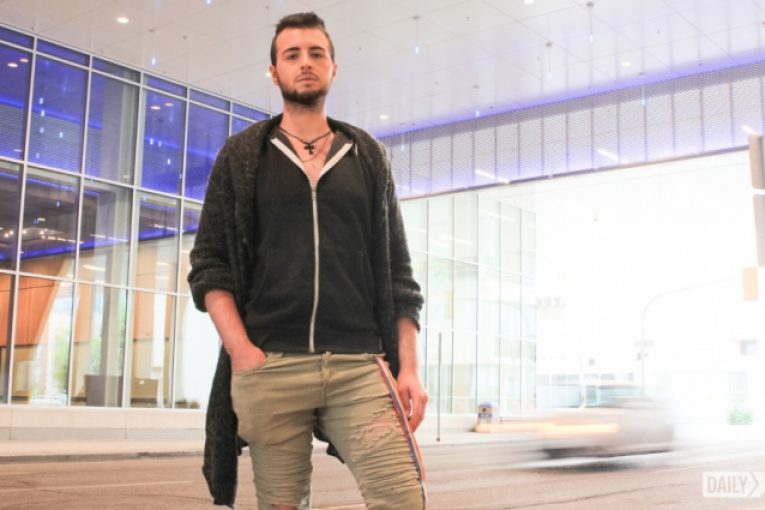 Photo Credit To Austin Grabish, Daily Xtra
Garrett Wipf says he's not afraid to tell his story, though he expects repercussions
Growing up he'd see the pictures in the paper.
Drag queens, rainbow flags, and gay guys.
While his peers scoffed about Winnipeg Pride being in the news, Garrett Wipf thought one day "I'll be there."
Then last year he was.
Wipf fled his rural Manitoba Hutterite colony for Winnipeg in 2014 at age 16, and came out earlier this year as gay. He remembers the day he left like it was yesterday.
"March 23 10 o'clock in the morning I decided just to run away."
It was the first time Wipf ever left Homewood Colony on his own. The community is located about 45 minutes away from the City of Winnipeg.
"I threw everything in garbage bags, ran to our Styrofoam factory [to meet] my friend and never looked back after that," he says.
Wipf says he had to leave because his mother confronted him about being gay.
"It wasn't very pleasant. She disowned me."
"I was just in shock. I honestly just sat there and [had] questions running through my head. Who did I talk to about this?" he recalls.
He says he was scared his mom would make good on her threat to report him to the colony's minister, who is the leader of the community.
Read More Here: http://www.dailyxtra.com/canada/news-and-ideas/news/gay-hutterite-comes-fleeing-colony-in-rural-manitoba-197026#DVP