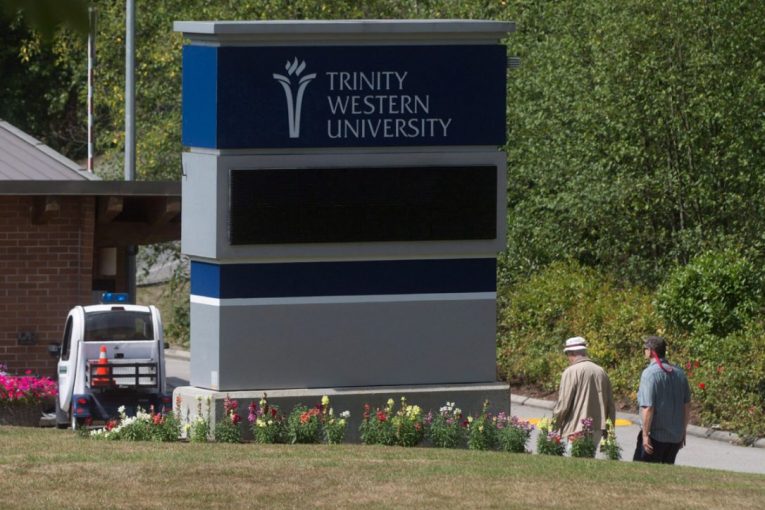 The Ontario Court of Appeal has rejected a Christian law school's bid for recognition in the province, calling its prohibition on sexual activity between same-sex married couples degrading and reminiscent of similar rules singling out blacks and interracial couples in the United States.
Trinity Western University, an evangelical Christian private school in Langley, B.C., has been seeking accreditation across Canada for a new law program. All students, staff and faculty at TWU must sign a "community covenant" which forbids sex outside of heterosexual marriage. The school says that it does not discriminate and that anyone may enroll.
The Law Society of Upper Canada, which regulates the legal profession in Ontario, had voted 28-21, with one abstention, to refuse to accredit the school, calling it discriminatory, and saying that the law society's role is to uphold the rule of law and advance the cause of justice. TWU appealed, first to Divisional Court, where it lost 3-0, and then to the appeal court, where on Wednesday, it lost 3-0 again.
The appeal court said that the case involved a collision of religious freedom and equality, and that the law society's decision needed only be reasonable to stand. The court took just three weeks to produce its decision: "Clearly, yes." As evidence the ruling was reasonable, it cited a 1983 U.S. case in which the federal government had taken away the tax-exempt status from Bob Jones University, which barred black students till 1971, and after 1971 only admitted blacks if they were married; on its religious principles, the school opposed interracial dating and marriage. The school lost the case at the U.S. Supreme Court.
The appeal court, in a ruling written by Justice James MacPherson, and supported by Justices Eleanore Cronk and Gladys Pardu, also said it agreed with the statement by intervenor groups OUTlaws and Out on Bay Street: "The Covenant is a document that discriminates against LGBTQ persons by forcing them to renounce their dignity and self-respect in order to obtain an education."
TWU said it would ask the Supreme Court of Canada to hear an appeal, saying it harms freedom of religion. "One of the most profound privileges is the fact that the government does not tell us what to believe. We may believe or we may not believe. This isn't just about a law school for us. It's about upholding freedom for everybody," Amy Robertson, a spokesperson, said in an interview.
Read More Here: http://www.theglobeandmail.com/news/national/ontario-appeal-court-upholds-law-societys-stand-on-christian-school/article30674427/#DVP
Ontario appeal court upholds decision not to accredit evangelical law school
Trinity Western University's "community covenant" bans sex outside heterosexual marriage, raising LGBTQ discrimination questions.
Ontario's top court delivered a strong affirmation of LGBTQ rights on Wednesday when it upheld a decision not to accredit an evangelical Christian law school.
The Court of Appeal ruled that the Law Society of Upper Canada (LSUC), which regulates lawyers in Ontario, was entitled in 2014 to deny accreditation to Trinity Western University's proposed law school over its "community covenant," which students must abide by and prohibits sex outside of heterosexual marriage.
"My conclusion is a simple one," wrote Justice James MacPherson for a unanimous three-judge panel. "The part of TWU's community covenant in issue in this appeal is deeply discriminatory to the LGBTQ community, and it hurts."
MacPherson wrote that the decision not to accredit does infringe on TWU's right to freedom of religion, but not to the point where it must be overturned.
"The LSUC's decision not to accredit TWU does not prevent the practice of a religious belief itself; rather it denies a public benefit because of the impact of that religious belief on others — members of the LGBTQ community."