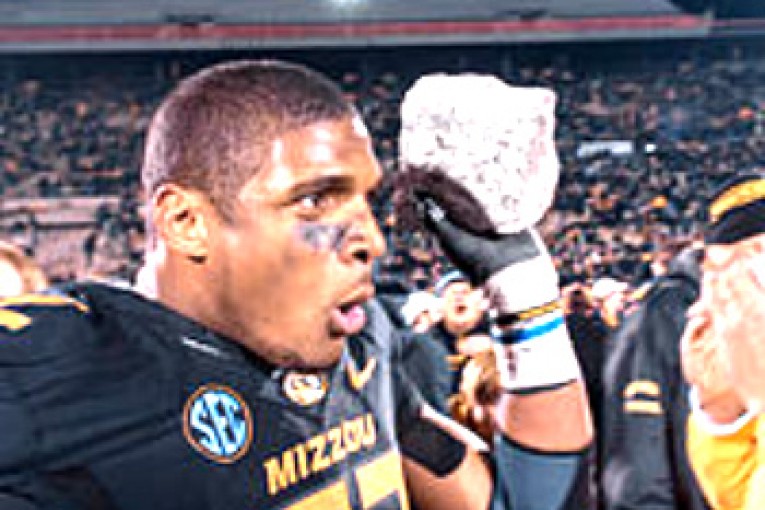 Photo Credit To wikipedia
Many of us watched Michael Sam, the highly acclaimed collegiate grid iron star, as he strategically orchestrated his coming out in public. It was done on ESPN and in The New York Times – so that he could enter the NFL on his own terms. Sam's the first gay grid iron collegiate athlete to be drafted into the NFL. That fact was not a motivating factor for Sam, though. He came out for more personal reasons.
First, it was and is important to him that he be identified first as a football player, and then as gay. Second, he didn't want to leave room for the possibility of any one else outing him in the media. "I want to own my truth," Sam told the Times. This way, he reasons, he has full control of his 'coming out' story.
Sam was an outstanding All-American Lineman for the NCAA Missouri Tigers, who finished 12-2 and ranked No. 5 in the country. Their feats included a Cotton Bowl win. Most attribute the team's leap from 5-7 to 12-2 in 2013 to Michael Sam, who the Southern Conference named Co-Defensive Player of the Year (2013).
Sports writer Bill Connelly conveys in a scouting report how it was hard to find, in the comments about Sam, reference to anything other than "leadership ability, his high motor, and his value as a teammate".
After Sam left the NCAA he was drafted by the St. Louis Rams. During the pre-season of 2014 the Rams released him, and he was picked up by the Dallas Cowboys. They also released him from their practice squad in October, after having signed him only a week before the regular season started.
"The Cowboys have carried 15 defensive linemen at different points this season, and…that was too many for the position, especially with several linemen set to return from inaction in the coming weeks", claimed Cowboys co-owner Jerry Jones on a Dallas radio station. Rationale for the decision to release Sam is given as having no relationship to the fact that he's gay.
It's not unreasonable, however, to speculate that Jerry Jones may have had to release Sam to quell dissent among the ranks in the locker room. Football in general and the Cowboys in particular are bound to be breeding grounds for hard hitting machismo. It's not much of a stretch to say that belief in the locker room that a gay athlete is an inferior athlete could have influenced the decision to release Sam.
This reality is reflected in the 1994 play Blade to the Heat, in which playwright Oliver Mayer explores the theme of manhood and being gay in the macho world of pro sports. Mayer questions how "men must prove their mettle in this virulently macho society".
Vancouver's William S. Taylor, one of the actors in the original ensemble, aptly pointed it out to me while I was writing this article.
Michael Sam crossed over to the CFL last month, when The Montreal Alouettes signed the Lineman. But then he made a move totally out of left field, and left people perplexed and speculating. Big time. Just 3 weeks into the training camp Sam requested a leave to go home to his family in Texas for undisclosed personal reasons.
The show must go on. The Montreal Alouettes opened their season Thursday June 25 at home with a 20-16 loss against the Ottawa Redblacks. Had Michael Sam played in this game he wouldn't have been able to solve the quarterback dilemma, but the outcome of the game still may have been better.
Moving forward, Sam will likely be given a hero's welcome on his return. His new team mates will undoubtedly recognize him first and foremost as a kick-ass football player.