Photo Credit To Vancouver Mayor's Office
Vancouver is a City of Diversity, Inclusion and Reconciliation,
as such, hatred and racism will be met with resistance, including resistance from Vancouver's LGBTQ2+ community. After a successful 39th Annual Pride Parade, the hundreds of thousands who gathered for Pride will not tolerate hatred and discrimination.
After Charlottesville, the world has seen what is lurking beneath the surface. The far right/alt right/white supremacists, and Nazi's, call them what you will, are gaining momentum.
Brad Salzberg, is the planned speaker for the WCAI group that is co-hosting the rally at City Hall on Saturday, August 19th. Salzberg is the founder of the Cultural Action Party of Canada. CAPDCA is a registered B.C. Political Party.
The WCAI, World Coalition Against Islam is a US based group holding it's first rally in Vancouver. It's expected that WCAI founder will be in Vancouver. Details on their Facebook page says the Soldiers of Odin will also attend, and the rally is hosted by both WCIA and CAP.
WCAI/CAP are planning to meet Saturday, 2 PM, at Vancouver City Hall, counter protesters are meeting up at 12th Ave at 12:45 PM. The Stand Up to Racism Metro Vancouver Facebook event page has almost 3,000 committed to turning up and almost 5 thousand people interested. The WCIA/CAP on the other hand, have 25 showing as attending according to Facebook.
This image was shared by Nick Eagland on Twitter, Nick writes for the Vancouver Sun and is following the story as it unfolds. The image shows a car and was posted by an apparent organizer after Heather Heyer was brutally killed by a Nazi running his car into a crowd in Charlottesville.
Vancouver Police are in preparation mode for Saturday's rally and counter rally. Vancouver Mayor, Gregor Robertson wants people to defend our values, and practice non-violence.
The BC Government and Service Employees' Union is also promoting the Stand Up to Racism Metro Vancouver Rally on Saturday. The BCGEU will be gathering behind the Broadway-City Hall Line Station, between the station and City Hall, at 12 noon.
Many in the LGBTQ2+ community, including allies, are planning to attend and join forces with Stand up to Racism Metro Vancouver's rally on Saturday.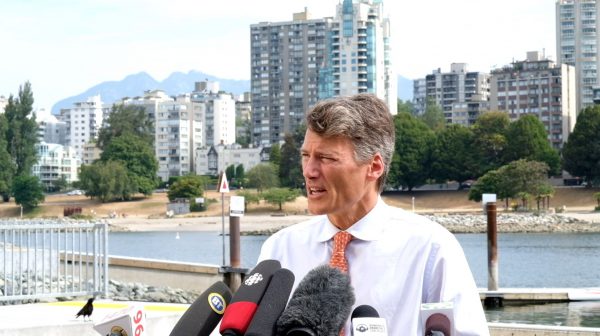 From Vancouver Mayor, Gregor Robertson
"Acts of hate and violence must always be met with strong resistance. We forcefully reject racism, bigotry, and discrimination as well as the individuals and groups who spread it in our city. I stand in solidarity with anti-racism protesters and I encourage peaceful protest to call out white supremacy, hate, and racist speech wherever they take place.
Vancouver is not immune to racism and we have a troubled history of racial discrimination. It is imperative that we are vigilant with a passionate, non-violent defense of our values to ensure Vancouver remains inclusive, welcoming, and diverse."