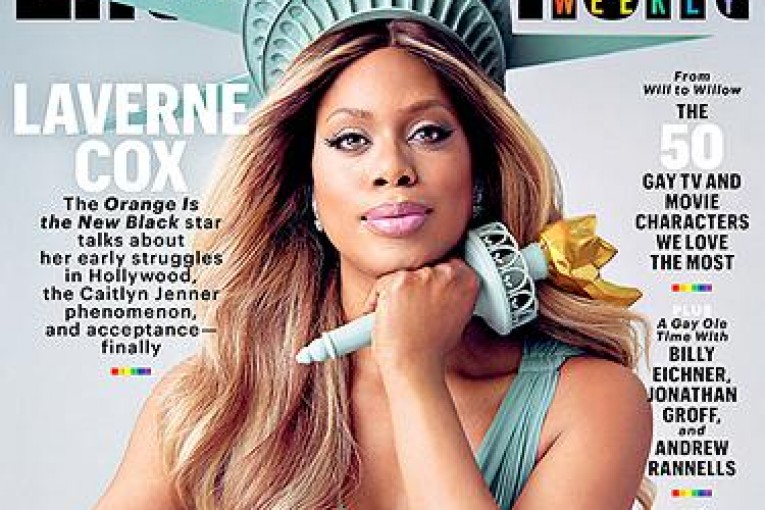 Photo Credit To http://www.ew.com/article/2015/06/10/laverne-cox-entertainment-weekly-cover
Laverne Cox LGBTQ+ Icon
A few days before their huge annual Pride Parade, the city of San Francisco is making history by marking the celebrations in a very fitting way. The beautiful American actress Laverne Cox, best known for her roles portraying a transgender character in the television series "Orange is the New Black", will make a dramatic addition to the world famous Madame Tussauds Wax Museum of San Francisco. Madame Tussauds Wax Museums are known around the world as haunting places filled with life-like full sized figures of famous people throughout history, dressed in the current fashions familiar from their time.
Already making a bit of history by being the first transgender actress to be recognized with an Emmy award nomination, she will now be the first life sized transgender wax work in the world. A spokesman for Merlin Entertainment, Kari Martin was said to state that the wax work likeness is scheduled to be unveiled on Friday, June 26th 2015, just a couple of days before the city's Pride Parade kicks off on Sunday.
Laverne Cox wears many hats, she is an actress, reality television star, television producer, and LGBT advocate, best known for her character named Sophia Burset on the Netflix television series "Orange Is the New Black". Born in Mobile, Alabama in the United States, Laverne just celebrated her 31st birthday on May 29th. She is well known for her strength and successes, having had strong beliefs in equality and LGBT+ inclusion within the arts and the community. She is featured here in a gorgeous photo by Alexei Hay on the cover of the current Entertainment Weekly Magazine as a symbol of strength, faith and beauty.
­
Needless to say, the title on the cover of this magazine says it all. Things are changing, the fact that Gay Pride is becoming more supported in ways than it ever has before says a lot about how things are changing for the better. If we can handle transgendered Miss America, and famous trans actors and actresses and entertainers, we are opening the doors for so many of the future generations to bring it on, loud and proud. Congratulations to Laverne, and to others that will follow in her footsteps. It gives new meaning to the saying, "You've come a long way Baby!" Now go the distance and get that Oscar!