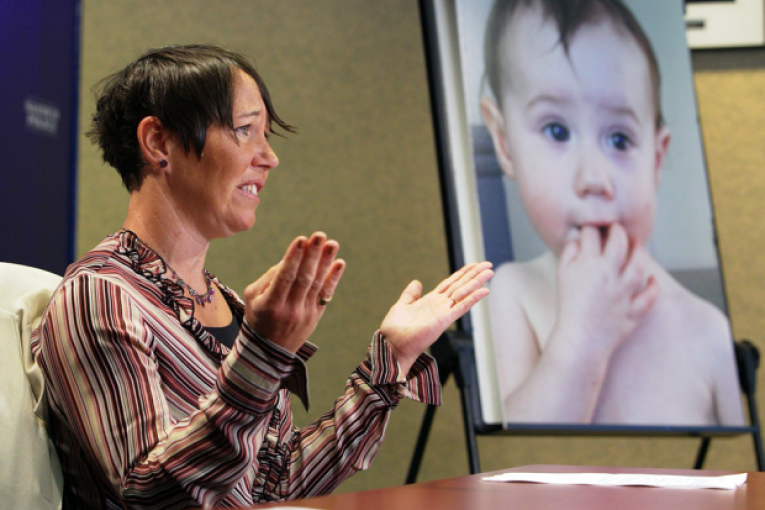 Photo Credit To Darren Stone, Post Media
Tasha Brown calls her daughter Kaydance "a sparkling gem, a little miracle." And then she begins to cry. Brown is frantic with worry, because her two-year-old is missing.
Brown began to suspect in early May that her estranged wife had defied a court order and fled Canada with their daughter, who was conceived with the help of a sperm donor father.
That suspicion was confirmed days later, when police in Saanich, B.C., discovered that Lauren Etchells, 31, a Canadian-British dual citizen, had managed to board a WestJet flight in Vancouver with Kaydance, arriving the next morning in Gatwick Airport, outside London.
They hadn't travelled alone. Also on board WestJet Flight 0022 was Etchells' old chum and new love interest, a South African man named Marco van der Merwe, and a second child named Marcus, a son born to Etchells and van der Merwe just a month earlier in a Victoria-area hospital.
They have all since vanished. Etchells is now the subject of an international arrest warrant, in a case that was made public only this week and has British tabloids screaming about "lesbians," donated sperm and alleged child abduction.
Van der Merwe, as far as police can tell, is somewhere in the Middle East, perhaps in Qatar, where he has lived for many years and has worked as robotics engineer. Saanich police Sgt. Jereme Leslie says his department's major crimes investigators have had sporadic contact with van der Merwe since Kaydance's alleged abduction, adding that he's been "less than co-operative" with them.
He did not respond to a National Post email sent to him Friday, but van der Merwe did reply to a query from the Victoria Times Colonist, claiming that he has, in fact, co-operated with authorities. "I told them I do not know where Miss Etchells is, nor do I have communication with her as she had broken off all communication for fear of being tracked," he told the newspaper.
Read More Here: http://news.nationalpost.com/news/canada/b-c-woman-hunts-for-missing-toddler-taken-from-country-by-estranged-wife-and-sperm-donor#DVP