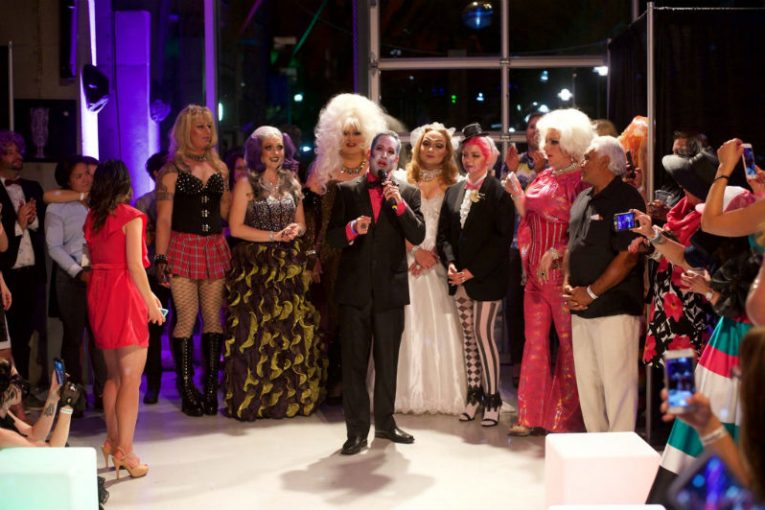 Photo Credit To Glenna Turnbull via Facebook/public
Sugarplum Ball: Okanagan Pre-Pride Extravaganza
July 29th, 2017, Okanagan Young Professionals (OYP) and Okanagan Pride will present the 2017 Sugarplum Ball to be held at the Rotary Centre for the Arts.
The Sugarplum Ball had it's inaugural Ball in 2016 and at the time was to be a one time event. The Sugarplum Ball was a huge hit with over 400 attendees. The success for the event solidified it as a new annual event in Kelowna, BC.
Why Call it Sugarplum?
In 2015, Kelowna Mayor, Colin Basran, endorsed the painting of a rainbow sidewalk at Pandosy Street and Lawrence Ave in downtown Kelowna. Critics immediately went online and gave the mayor the now famous nickname of Mayor Sugarplum.
Mayor Basran garnered country wide headlines for his support of the Okanagan's LGBTQ2+ community, and because of haters and trolls, felt it would be a good idea to do something positive. Basran reached out to the Okanagan Pride Society and Okanagan Young Professionals, and together the first Sugarplum Ball was born. The mayor attended the Ball in drag, showing his support for LGBTQ2+ minorities and other marginalized groups.
An Evening of Fabulous
The Sugarplum Ball will host 500 of the Okanagan's most influential and diverse people and will feature an evening of live entertainment, including Aerial performances. Stage performances by Kelowna's top drag performers and some celebrity transformations.
This year's event will take place on Saturday July 29, 2017 at the Rotary Centre for the Arts, 421 Cawston Ave, Kelowna.
Find more details and ticket information here.
photo via Public/Facebook: by Glenna Turnbull/www.GlennaTurnbull.com