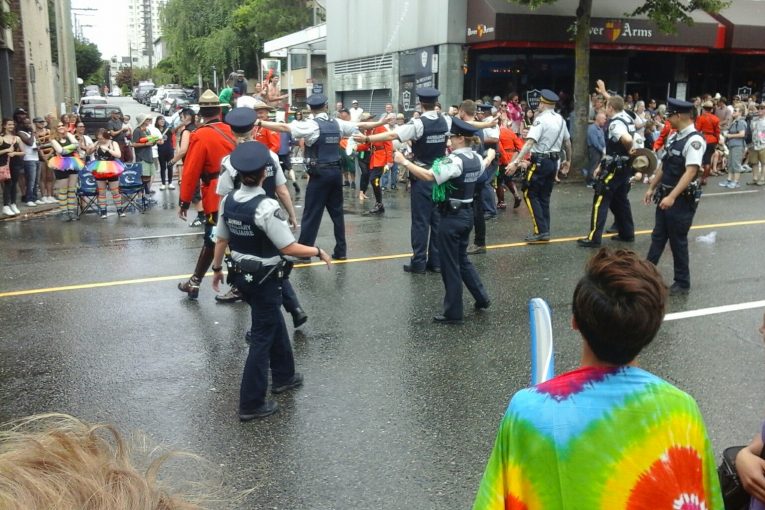 Photo Credit To Davie Village Post
Across The Country and Here At Home
This discussion is taking place across Canada, and recently Toronto and Halifax Police said they will not participate in their respective communities pride parades.
As reported in the Globe and Mail, February 6, 2017, Police Chief Jean-Michel Blais, said that "participating in the parade may contribute to divisions in the Pride community, and stepping away from it will allow for meaningful discussions on the issue". The decision was reached after several months of discussions with Halifax Pride.
Toronto's Chief of Police last week announced that the Toronto Police Service will not participate in this year's Toronto Pride Parade.
Vancouver Pride Society has publicly stated that Vancouver Police will participate in this year's Pride Parade. The statement, released on Facebook, aims to clear up some confusion and misinformation.
STATEMENT
VANCOUVER PRIDE PARADE and POLICE PARTICIPATION
We are aware that there are social media conversations, forums, closed groups and petitions circulating about police participation in the 2017 Vancouver Pride Parade. We have also read the comments. There are strong and passionate opinions/thoughts/feelings about this topic. We want to hear those opinions and also believe that dialogue is an important part of learning and growing.
We do not support derogatory, racist, mean, angry or discriminatory comments on either side of this issue. We ask that if you decide to comment, please be informed, please speak for yourself and please keep your language kind. We also ask that you use empathy! We are all part of a community. It can also be helpful to learn about other people's experiences and opinions.
We encourage people to contact us if you have questions or opinions. ([email protected]) We have been engaged in a community feedback process since September 2016. We have been gathering information through an online survey, in person meetings and one group session with two more planned for March 9th and April 6th. We have asked questions about how to remove barriers to participation in Vancouver Pride events. Part of that feedback has included hearing from many different people about police participation in the parade. We will process all of this feedback when making decisions about how to move forward.
We are also aware there is a lot of misinformation floating around. We would like to clear a few things up:
1. Vancouver Pride Society is committed to working through this issue with dialogue and collaboration. We believe that growth and change happen by working together to find solutions.
2. We have reached out to Black Lives Matter multiple times over the past six months to be involved in the process of dialogue with police. They have only recently been available and will attend our next board meeting.
3. We have also met with and heard from other groups and individuals including people of colour, trans people and indigenous people. We are listening to their voices and suggestions.
4. Vancouver Pride Society is not banning the police from participating in the parade. We are engaged in a dialogue process with VPD and RCMP to work through what their participation might look like for 2017.
5. Vancouver Police Department does NOT have its own entry in the parade. They are part of the City of Vancouver's entry which includes Mayor, City Council, ambulance, fire and rescue, library, parks board, city staff and police.
On behalf of Vancouver Pride Society,
Andrea and Kieran
Co-Executive Directors